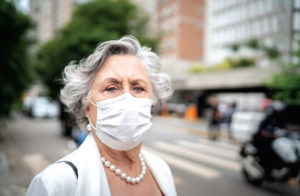 As with the flu or other infections, COVID-19 is particularly challenging for the elderly patient population. Those over the age of 60 are having more difficulty fighting the viral infection and many are facing life-threatening symptoms. As with influenza, the risk of breathing dysfunction and pneumonia are what's causing the virus to take such a great toll on seniors. The FDA is working on drugs that are thought to kill the virus, but until then, it's detrimental that all seniors practice good hygiene, and avoid contact with others until the infectious spread has decreased. If you must go out, please treat every person and every area as if contaminated. Wash your hands and disinfect areas that you may have touched. Maintain good healthy habits such as sleeping 7 to 9 hours, eating nutritious meals, practice calming techniques and supplement the immune system with extra vitamin C and any herbal remedies of your choice.
Cypress Medical – Geriatric Specialty
Cypress Medical is a sole practice utilizing old school medicine and incorporating the latest technology. Dr. Lopez has been in Polk County practicing since 2002, treating geriatric patients and has been the medical director for nursing homes. Dr. Lopez has in house diagnostics such as an ultrasound for the convenience of his patients and for his expertise in diagnostic management. He accepts self-pay patients, and Dr. Lopez has admitting privileges at both BayCare and Advent Health hospitals.
Medication Management is a critical detail that often gets overlooked in larger practices. This can lead to adverse side effects and contraindications. As individuals age, it's also difficult to keep track of what drugs they should take at what time. Dr. Lopez helps to make thee details easier and safer for his patients. Dr. Lopez also believes that medicine should be personalized. His dedication is for medical treatment to be the way it used to be, the way it's supposed to be, and to provide the optimal treatment and outcome for his patients.
Dr. Raphael Lopez is Board Certified in internal medicine.
He believes in a full-circle level of attention that allows for great continuity of care and reduces redundant testing, medical errors and other issues that often occur when seen by multiple doctors. Dr. Lopez has a special focus on the physician/patient partnership. He brings to this partnership the skills of an experienced physician in both an outpatient and hospital setting. Dr. Lopez has worked in several nursing homes and has experience being the medical director of a nursing home with over 35 Alzheimer's dementia patients directly under his care.
His experience allows him to appreciate the complex elderly patients and their unique needs and medical concerns. He enjoys the challenge of complex medical patients both young and old. Dr. Raphael Lopez is committed to continuing education and remaining aware of the latest advancements in medical health. He promises to deliver exceptional service to you and your family in hopes that you will feel comfortable and welcome in our office. Whether you are a long-time patient or a first-time visitor.
Cypress Medical Center aims to educate our patients in a safe environment while offering you the necessary comprehensive care you deserve. We understand that many people have anxiety about medical treatment, so we created a soothing atmosphere and a scheduling system that never keeps you waiting long. By combining the latest technology with traditional techniques, we give our patients the best care possible.
Internal medicine concerns the diagnosis and non-surgical treatment of diseases in adults, especially diseases of the internal organs. Doctors of Internal medicine are required to have included in their medical schooling and postgraduate training at least three years dedicated to learning how to prevent, diagnose, and treat diseases that affect adults. They often act as consultants to other physicians to help solve mystifying diagnostic problems. Doctors of internal medicine are primary care physicians and treat the whole person, not just internal organs and are usually the most skillful at treating a broad range of diseases and are trained to solve puzzling diagnostic problems and handle severe chronic illnesses in situations where several different illnesses may strike all at the same time. They also bring to patients an understanding of preventive medicine, substance abuse, and mental health, as well as effective treatment of common problems of the eyes, ears, skin, nervous system and reproductive organs. Most elderly adults in the United States see an internal medicine doctor as their primary physician. Dr. Raphael Lopez is Board Certified in Internal Medicine and is a member of the ABIM. The ABIM is the American Board of Internal Medicine that sets the standards and certifies the knowledge and skills of physicians who practice internal medicine.
At Cypress Medical Center, we know that finding the right physician to take care of you is a choice not to be taken lightly. That's why Dr. Lopez believes that excellent health begins with education and prevention. He has made it his mission to enlighten patients to ways they can take greater control over their own medical health.
To finally have a doctor that knows you by name, thoroughly knows your medical history, and manages your health as if you were a close friend or family member, call Cypress Medical center today at (863) 421-4400!
Welcome to Cypress Medical Center
295 Patterson Rd Suite B, Haines City, FL 33844
(863) 421-4400
cypressmedicalcenter.com