Find out why your body holds on to excess fat!
Written by Carolyn Waygood, Certified Natural Health Professional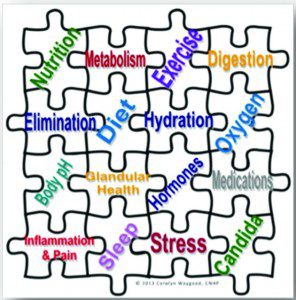 Let's shed some light on the misconception that excess weight is simply caused by too many calories and too little exercise. Most "diets" focus on calorie deprivation, while most "diet programs" are focused on restricting calorie consumption and increasing physical exercise. While improving your food choices and participating in 20 minutes of exercise each day can benefit all of us, in most cases there's other factors which lead to excess weight than diet and exercise alone. If you're one of those people who "have tried everything", and still don't see weight loss results – you're not alone.
With statistics indicating that 2 out of 3 Americans face excess weight issues, the topic of healthy eating – and everything else related to excess weight – has to be addressed. "In my opinion", notes Carolyn Waygood, Certified Natural Health Professional and Diabetes Educator, "the health and medical industries aren't doing a good job educating the public on the many causes of weight gain, and more importantly, how to solve the excess weight puzzle." There are many factors that contribute to excess body weight. While one of the main culprits is our diet, it's not the complete picture.
"Before you embark on a weight-loss program, understand that everybody's weight challenges are different" suggests Ms. Waygood. "Just because your friend lost 50 pounds following one diet program, doesn't mean you will be as successful. Your excess weight could be caused by something completely different, and your body will respond to health alterations at a different rate." No one has a crystal ball, or a tool to look inside you and determine the cause (or causes) of your weight problem. Solving your personal weight loss puzzle takes awareness, patience, and commitment. Changing the body, repairing faulty processes, and building healthy habits doesn't happen overnight.
"It usually takes at least 3 months to experience a positive health change", explains Carolyn, "and may take as long as 6 or 9 months before a person notices their health is improving". So if someone tries to tell you "it's easy", well, it's not. The weight loss puzzle is a complicated one with many facets. Finding out which piece (or pieces) you need to solve your weight challenge takes time and consideration. Take a look at some of the pieces below, and determine if any may be impacting your ability to achieve optimal weight levels.
If you, or someone you know, battles with one or more of the health concerns listed below, it could be affecting your overall health and impacting your ability to achieve optimal weight levels. Contact Carolyn Waygood, CNHP today to schedule a FREE 30-minute phone consultation to help you understand these categories better by calling (941) 713-3767 today. Carolyn is an Independent Representative of Plexus Worldwide, a U.S.-based manufacturer of natural wellness products formulated to help people address a variety of different health concerns. Ms. Waygood has helped many people achieve healthy weight loss, blood sugar control, improved energy, appetite control, improved digestive health, relief from muscle and joint soreness, and improved nutrition. Read more about the positive health benefits individuals have achieved using Plexus products.
"I started taking Plexus Slim with Accelerator 4 months ago and I have lost 26 pounds. I went from a size 12 to a size 8. Even during the Holidays when the food craving was at its worst, I was able to enjoy and eat what I wanted without gaining a pound!" – Hope S.
"When I started taking the Plexus products I weighed 185 pounds and was wearing a size 14. I used Plexus for five months and lost a whopping 52 pounds. I am in a size 5 now. I feel great thanks to Plexus Slim. And the best part is that I haven't gained a single pound back. What an amazing product. I would recommend this to anyone." – Rochelle D.
"I decided to try Plexus on October 24, 2013. I really needed to lose a few pounds and only 10 weeks later my results far exceeded my expectations! Not only did I lose a lot of weight and inches, I am no longer sick! These Plexus products have given me my life back and I will never stop taking them, they really do work! They are changing the lives of my family and friends and for this I am so grateful!" – Sabra McCraw
"I started my Plexus journey on October 3rd, 2013. Since then, my blood pressure has gone down, I'm sleeping better, I have less weight on my bum knee, and have more energy! Within 4 months I was down 64 pounds. I went from a size 54 pants to a size 38!" -David Kempen
"I prayed to God for three things: get healthy, lose weight, and find a better paying job. In two and a half months I had lost 43 pounds, 39 inches! I am now in a size 8! I'm getting healthy, I'm losing weight and have a great job that I love! Plexus was the answer for all three of my prayer requests." – Rhonda Langdon
Try a 3-Day Trial Pack of Plexus Slim & BOOST for only $11.95 (with FREE shipping & handling!), and see for yourself how you can achieve more balanced blood sugars, improved energy, and better appetite control! Order yours today at
www.WAYGOOD.MyPlexusProducts.com
!
Want to kick off the New Year with healthy goals? Contact Carolyn today to register for a FREE wellness seminar in your area! "Natural Health in the New Year", an informative 55-minute health seminar, is scheduled in Tampa, Saint Petersburg, Bradenton, Sarasota, North Port, and Fort Myers throughout January, 2015! This is a great opportunity to learn more about natural health alternatives, and the Plexus products in a no-pressure sales, educationally-focused environment! Call Ms. Waygood today for more information at (941) 713-3767.
To read more customer testimonials, and learn more information about the health benefits associated with Plexus products, visit
www.WAYGOOD.MyPlexusProducts.com
.