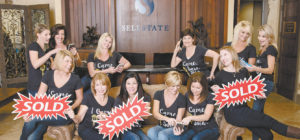 It's time-consuming and daunting to find the perfect home or the right buyer.  That's why partnering with an established real estate agent is crucial to making the process go as smoothly as possible.
1.  The National Association of Realtors® (NARS) Code of ethics requires your agent to have a fiduciary responsibility to you and your needs above all else and in all transactions.
2. Negotiation can be difficult.  Your agent specializes in knowing the market value of your home, neighborhood, and location.  They are keenly aware of fair pricing and local comparable homes sales and asking prices.  When you're ready to sell or purchase a home, they will have the most valid, up-to-date information that you can rely on.
3. Contracts are cumbersome; some can be 30- 50 pages long, when you're forced to read through addendums and riders, it's critical to have an experienced agent guide you through the paperwork and help you make those important decisions.
4. Realtors are aware of pitfalls that many buyers are not mindful of, like Chinese drywall, black mold, pipes that burst frequently, damaged tresses and other issues that should be disclosed during your contracting phase.
5. Being informed is critical in real estate.  Agents must stay well-informed on regulations and laws that are often changing year to year these days.  An experienced agent will guide you through the process with ease so that you can focus on the rewarding part, which is buying a new home or selling the one you're in.
Preschool before starting her multi-million dollar Real Estate business in 2002. She and her husband have three children (ages 14, 15 and 23). Their eldest graduated from a local school while their youngest two still attend public school in Ocala where they are actively involved in sports and other activities.
Laurie Ann and her TEAM of Realtors love to work with people moving to the Ocala/Marion County area so that they can share their love of their community and help them find their niche.
Laurie Ann and her team members take pride in going the extra mile to not only help our customers find or sell their Marion County home but also to find connections here that make their transition smooth and exciting.
Most of their business comes from friends, and referrals of friends, which, they feel, make their job fun and enjoyable.  They also love the new connections they make from their Internet presence. They enjoy helping people reach goals, move on to new seasons of their lives, purchase their first home, make a real estate investment, upsize, downsize, or whatever the case may be.
4399 NW 4th Circle, Ocala, FL 34475
Beautiful 4/3 builder's model w/ tons of upgrades and character. 10′ ceilings, 8′ doors, real wood, tile & upgraded carpet, lovely granite, upscale appliances & designer fixtures, including LED lights throughout home to save on electric bills. Triple Split plan. Nice, mature landscaping, great curb appeal. Private, white vinyl fenced backyard w/ covered lanai for outside entertaining. Move in ready for new owners!
Laurie Ann and TEAM would love the opportunity to work with you!
Call 352-877-3887 or find them on the web at www.latocalahomes.com, www.ocalaneighborhoods.com or on Facebook and other social media sites.