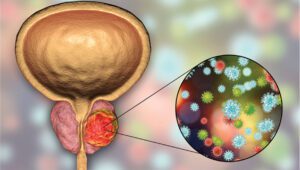 Prostate Screening Has Been Impacted by COVID-19
According to a July 2020 article* published in the journal Nature, the National Comprehensive Cancer Network (NCCN) is advising against routine prostate cancer (PC) screening, including prostate specific antigen (PSA) testing and digital rectal examination (DRE), for all asymptomatic individuals until the pandemic subsides. While the decrease in screening may be concerning for some, the NCCN points out that "the recommendation is based on the fact that the risks of a delay in diagnosis of up to 6–12 months would be marginal for most PC."
Men who are experiencing any of the symptoms of prostate cancer should contact their primary care physician for a recommendation. Common symptoms of prostate cancer, as defined by the American Cancer Society (ACS), can include:
• Problems urinating, including a slow or weak urinary stream
• Need to urinate more often, especially at night
• Blood in the urine or semen
• Trouble getting an erection (erectile dysfunction or ED)
• Pain in the hips, back (spine), chest (ribs), or other areas from cancer that has spread to bones
• Weakness or numbness in the legs or feet
• Loss of bladder or bowel control from cancer pressing on the spinal cord
*Reference: https://www.nature.com/articles/s41391-020-0258-7
Know Your Risk Factors
Although some younger men do get prostate cancer, the risk increases with age. More than 70 percent of all prostate cancer patients are over the age of 65, and about 75 percent of all men over the age of 80 will have some form of prostate cancer, according to the National Cancer Institute. In addition to age, other risk factors include ethnicity, genetic factors and diet. No one knows why, but African American and Latino men have a greater risk of developing prostate cancer than Caucasian men; Asian and Native American men have the lowest risk. There is also some evidence that diet plays a role in prostate cancer. Studies have found a higher incidence of prostate cancer in men whose diets are high in fats, particularly animal fats, and low in vegetables. A family history of prostate cancer also increases the chances of developing the disease.
Protecting the Safety and Well-being of Cancer Patients
Prostate cancer patients and their families may experience heightened vulnerability and psychological stress during the coronavirus outbreak. However, many safety precautions have been instituted at Florida Cancer Specialists (FCS) that allow our physicians and clinical staff to continue administering needed treatments for our patients. Our team of cancer experts have enacted stringent procedures and safeguards, including, but not limited to, restricting visitors in the clinics, screening all patients and staff members before they can enter the clinic, requiring mandatory masks for all patients and staff members, practicing social distancing, instituting infection control procedures aligned with CDC guidelines and continuously sanitizing the clinics throughout the day, with rigorous cleaning after hours.
Telehealth services are also available at all FCS
locations. In fact, we were among the first in Florida to deliver virtual access to cancer care treatment as the health care crisis began. Whenever possible, patients are connecting with their physician, advanced practice provider, nurses, social workers and oncology dieticians securely and conveniently from home. Patients are receiving laboratory results, reviewing treatment plans and accessing vital care management support while mitigating the impact and spread of COVID-19. To date, FCS has had more than 36,000 virtual visits and we anticipate that number will continue to increase.
World-Class Cancer Treatment, Close to Home
Florida Cancer Specialists & Research Institute (FCS) has a statewide network of expert, board-certified physicians who bring world‐class cancer treatments to local communities, both large and small, in locations throughout Florida. FCS is also a strategic partner of the Sarah Cannon Research Institute, one of the leading clinical trial organizations in the world. This alliance provides FCS patients access to the newest, most innovative and most promising new treatments.
Florida Cancer Specialists treats patients with all types of cancer and offers a number of services, including an in-house specialty pharmacy, an in-house pathology lab, financial counselors at every location and 24/7 access to Care Managers, who help deliver the most advanced and personalized care in your local community.
Hudson
7651 Medical Drive
Hudson, FL 34667
Hudson North
14100 Fivay Road, Suite 380
Hudson, FL 34667
New Port Richey
8763 River Crossing Blvd.
New Port Richey, FL 34655
New Port Richey West
5802 State Road 54
New Port Richey, FL 34652
Wesley Chapel
26823 Tanic Drive
Wesley Chapel, Florida 33544
Zephyrhills
38010 Medical Center Ave
Zephyrhills, FL 33540
Ocala
1630 SE 18th St.
Suite 602
Ocala, FL 34471
Ocala Cancer Center
4945 SW 49th Place
Ocala, Florida 34474
Clermont
1920 Don Wickham Way, Suite 100
Clermont, Florida 34711
Leesburg North
9832 US Highway 441, Suite 101
Leesburg, FL 34788-3984
Leesburg South
601 E Dixie Ave., Suite 1001
Leesburg, FL 34748
Leesburg West
1600 West Main Street
Leesburg, FL 34748-2811
Tavares
4100 Waterman Way
Tavares, FL 32778
Villages Buenos Aires
1503 Buenos Aires Blvd
Building 140
The Villages, Florida 32162
Villages Cancer Center
1400 N US Highway 441, Suite 540
The Villages, Florida 32159
Villages North
1400 N US Highway 441, Suite 924
Lady Lake, Florida 32159