By Rick L. Pesano, M.D., Ph.D., Medical Director, Infectious Diseases, Quest Diagnostics –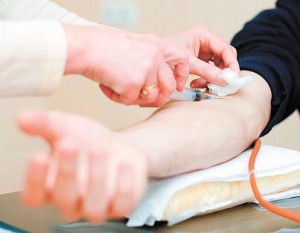 Hepatitis is an inflammation of the liver, caused by the hepatitis virus. Of the five different types of hepatitis virus (A, B, C, D and E), hepatitis C is the most common in the United States, affecting more than three million people. Hepatitis C is a serious condition that requires treatment, but because infected individuals often show no symptoms until serious liver damage has already occurred, many people are unaware that they are infected.
Recently, the Centers for Disease Control and Prevention added all "baby boomers" to the list of people who should be tested for hepatitis C. Individuals born between the years 1945 through 1965 should ask their physicians for the one-time test for hepatitis C at their next medical visit.
Chronic hepatitis C infections can last a lifetime, and can lead to liver damage, cirrhosis, liver failure, and liver cancer. In fact, liver damage occurs in an estimated 60-70% of people with chronic hepatitis C infection, and hepatitis C is the leading cause of liver cancer, liver transplants, and death from liver disease. Unlike hepatitis A and B, there is no vaccine for hepatitis C, which is spread by contact with infected body fluids such as blood or semen.
However, if asymptomatic individuals were aware that they were infected, they could be treated and possibly avoid liver damage. The Centers for Disease Control and Prevention's recommendation that all baby boomers be tested for hepatitis C was made because over 75% of adult Americans with hepatitis C are baby boomers, and about 73% of people who die from HCV complications are baby boomers. Hepatitis C-caused deaths are on the rise, with 7,000 to 15,000 deaths per year from HCV.
In making their recommendation, the CDC noted that testing is cost-effective and saves lives, and new hepatitis C treatments can cure up to 75% of those infected. Only the blood tests can determine whether or not you have hepatitis, and which type of the virus you have.
Since symptoms are not always evident, testing is critical to confirm whether you are infected. However, some individuals who have hepatitis might have these symptoms:
Fever
Fatigue (feeling tired)
Loss of appetite
Nausea, vomiting
Stomach pain
Dark-colored urine
Diarrhea
Gray-colored stools or pale stools
Joint pain
Jaundice (yellowing of eyes and skin)
Usually, there are no signs of chronic hepatitis until serious liver damage has developed.
The test for hepatitis C is very convenient and no preparation is required. Your doctor will probably order an antibody test (sometimes called an anti-HCV test), which is done through a blood draw from your vein. The blood sample will be analyzed for the presence of antibodies to the virus, which indicates exposure to the virus. If the antibody test is "nonreactive" (negative), hepatitis infection is not likely. If the test is "reactive" or positive, the person has been infected with hepatitis C. If your test is positive, your doctor will probably order an additional test to confirm the results of the antibody test.
In order to decide on the appropriate treatment plan, your doctor will also order tests to pinpoint the exact kind of hepatitis C virus that is present and to provide additional information that helps him/her develop a monitoring and treatment plan. These tests, which detect, analyze, and measure viral particles in the blood, also involve a simple blood test.
Quest Diagnostics, the world's leading provider of diagnostic testing, information and ser-vices, offers a broad hepatitis C and B virus testing menu, including tests to help determine hepatitis C exposure and identify abnormal liver function; viral RNA testing to monitor viral load during therapy; and hepatitis C genotyping to aid in predicting treatment duration and success.
If you do test positive for hepatitis C, do not panic. Individuals who are aware that they have hepatitis C can be treated and possibly avoid liver damage, which is why testing is so critical. Hepatitis C treatments are effective in the majority of the patients with the virus, and new antiviral drugs are being introduced that show great promise for individuals with specific types of hepatitis C. Treatment for hepatitis C usually lasts about 6 to 9 months. If you have hepatitis C, you and your doctor can discuss treatment options that will help prevent further liver damage and disease and allow you to live a long, healthy life.
Successful treatment for hepatitis C does not necessarily protect a person for life. It is possible to be infected and get sick from hepatitis C again. So, it is important to follow these general steps for prevention of hepatitis:
Wash your hands after going to the bathroom and before touching food.
Use condoms during sexual relations.
Avoid tap water when traveling in countries that may have water sanitation issues.
Don't share toothbrushes, razors, or nail clippers with an infected person.
If you are experiencing symptoms or you are a baby boomer in the target years, remember the recommendations of the CDC and ask your physician for a one-time hepatitis C test. If you have not been previously vaccinated or are unclear on your vaccination history, ask if you should be vaccinated against Hepatitis A and B. These life-saving tests and vaccines are convenient, widely available, and effective.
FOR MORE INFORMATION:
. CDC website: www.cdc.gov/knowmorehepatitis
. National toll-free hepatitis C helpline: 877-435-7443
Sponsored by HELP-4-HEP, a partnership among several well-known and nationally recognized non-profits with a combined 90+ years' experience in hepatitis C education, support and patient advocacy.
www.questdiagnostics.com