By Gil Cortes, MD, FAAD
While the exact cause is unknown, plaque psoriasis is actually an immune disease that is active inside your body yet shows up
on the outside, with skin lesions. It can, in some cases, affect the joints and cause severe symptoms. This is called Psoriatic Arthritis. In these cases, early treatment with the correct medications can halt joint damage and significantly improve joint and skin symptoms.
It's hard to predict just where plaque psoriasis will appear on your skin. And, unfortunately, plaque psoriasis is a chronic disease, which means it's a disease that lasts a long time and will not go away.
It's important to talk to a dermatologist, a specialist who treats skin diseases like plaque psoriasis to know what treatment options are best for you.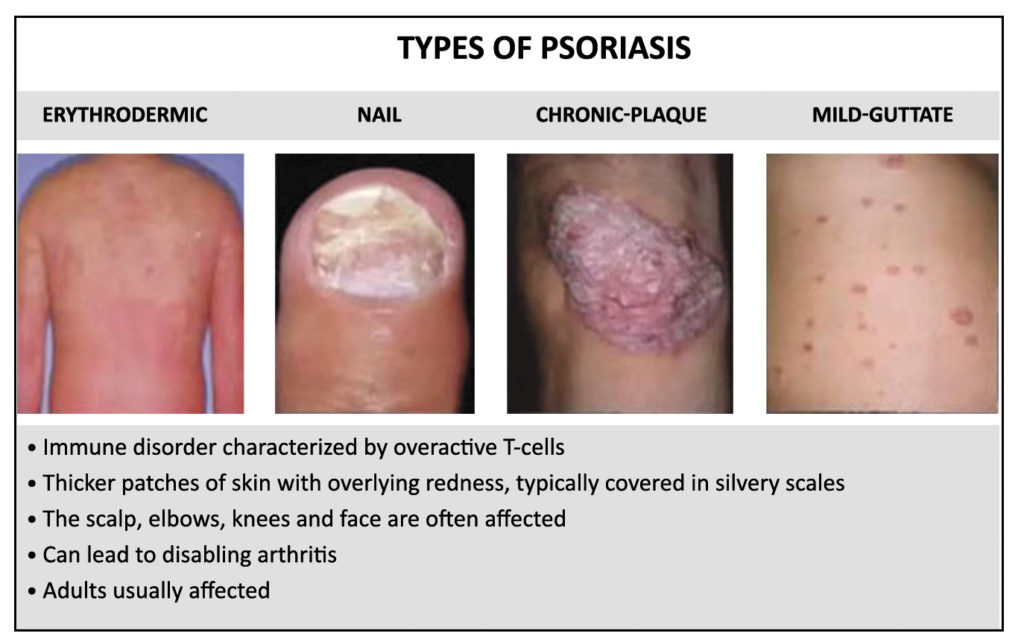 How does plaque psoriasis develop?
Scientists believe that several factors are involved, including genetics, environment, and the immune system.
Plaque psoriasis occurs when the immune system sends out faulty signals that speed up the growth cycle of skin cells. The skin cells accumulate, and red, flaky patches appear on the surface of the skin. Certain body locations are more typical for plaque psoriasis, but lesions can appear anywhere. In some occasions, a skin biopsy may be necessary for confirmation of pathology. Certain habits, such as smoking, excess alcohol and certain medications can make psoriatic lesions worse. It's important to discuss these with your doctor.
What do doctors look for when diagnosing plaque psoriasis?
One of the first things dermatologists will want to know is what percentage of your body's skin surface shows the redness, thickness, and scaling of plaque psoriasis. As a point of reference, your handprint is about the same size as 1% of your skin's surface. The greater the percentage of body area affected, the more serious symptoms will be for a patient and likelihood that more aggressive treatment options are needed.
What are the symptoms of plaque psoriasis?
Everybody experiences the symptoms of plaque psoriasis in different ways, which can vary based on the type of psoriasis, as well as the severity.
Gil Cortes, MD, FAAD
Dermatologist
NOVU Dermatology
(352) 775-3565
Rolling Oaks Professional Plaza
929 N. US Hwy 441 Suite 603
Lady Lake, FL 32159