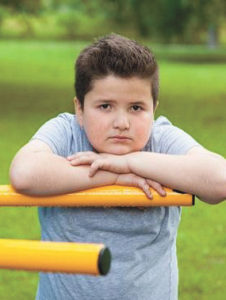 Being overweight can cause serious long-term health issues, but the statistics of childhood obesity are staggering. More than 100 million children worldwide are considered obese, and in the United States, 1 out of 3 children are diagnosed as clinically overweight.
Over the past few years, there has been nearly a 20% increase in the obesity rate of children and teens. This is calculated by the BMI (body mass index) of children being above the 85th percentile in comparison to children of the same sex and age in weight.
Why are so many kids having trouble with weight gain? Two major offenders are not being active enough and eating an unhealthy diet full of sugar, fat and complex carbohydrates.
Many children do not move enough throughout the day; they live sedentary lives, so much so that they can be equally compared to the inactivity level of older adults in their 60's and 70's. Some children sit in front of the television, computers, or play electronic gaming devices far more frequently throughout their day than they get exercise. They need more physical movement to burn calories adequately.
Childhood obesity can lead to the following diseases and disorders:
• High blood pressure
• Diabetes
• Asthma
• Sleep apnea
• Musculoskeletal disorders
• Arthritis
• Heart disease
• Cancer
• Stroke
We caught up with Dr. Otegbye, a Pediatric Hospitalist with Leesburg Regional Medical Center (LRMC) to find out more about his concern and treatment for childhood obesity
Q: What health complications are likely for children with obesity?
A: There are numerous health issues associated with childhood obesity like type 2 diabetes, high blood pressure, elevated blood cholesterol, liver disease (fatty liver), bone
and joint problems, respiratory problems such as asthma, sleep disorders such as difficulty breathing while asleep (sleep apnea), earlier than normal puberty or menstruation.
Other psychological issues can be eating disorders such as anorexia or bulimia.
Obese children are more likely to be teased and bullied and more likely to bully others. They may have poor self-esteem and may feel socially isolated, have increased risk for depression, poorer social skills, high stress and anxiety, behavior and/or learning problems as a result of psychological difficulties related to childhood obesity.
Q. In your pediatric experience are you implementing any protocols for weight management and education for children and their parents/
guardians?
A: While we take care of predominantly acute conditions in the hospital, we do have a lot of experience with children with special health care needs including obesity. We encourage children to eat more vegetables and fruits and less soda (sugary drinks) and "junk" food. It's important to teach and encourage physical activity and decrease sedentary activities that include watching TV and playing video games. We often refer obese children to specialists to help them lose weight and make healthy choices throughout their childhood and into their adult lives.
Getting your child the proper help now is critical for them to be able to live long-lasting, healthy, productive lives. There is a time when professional medical assistance is essential.
Dr. Ayodeji Otegbeye
Dr. Ayodeji Otegbeye, better known as "Dr. O" is the Medical Director of Leesburg Regional Medical Center's Pediatric Hospitalist Program, and the President and Founder of Central Florida Pediatrics Intensive Care Specialists and Night Lite Pediatrics Urgent Care. Dr. O is the Medical Director of Children's Medical Services in the Central Florida Region (Orange, Seminole, Osceola and Brevard Counties).
Dr. Otegbeye completed his residency and fellowship at Cook County Hospital in Chicago, Illinois. He is board certified in Pediatrics, Internal Medicine and Pediatric Critical Care.
He is a Fellow of the American Academy of Pediatrics, member of the American College of Physicians and Society for Critical Care Medicine. He specializes in pediatric critical care with special skills and interest in pulmonary medicine.
Leesburg Regional Medical Center
As a premier healthcare provider, LRMC takes pride in providing progressive, innovative technology, along with building strong relationships with patients, families, physicians and residents of the communities it serves. LRMC has a broad range of high-quality and award-winning services in cardiovascular care, orthopedics, minimally invasive surgery, comprehensive diagnostic services, labor and delivery, neurosurgery and more.
The hospital's mission is to improve the health and quality of life of the individuals and communities it serves.
Leesburg Regional Medical Center
352.323.5762
www.LeesburgRegional.org
600 E. Dixie Ave., Leesburg, FL 34748