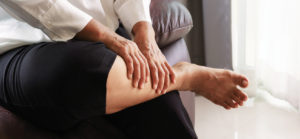 Do you have pain in your lower back that runs down one or both of your legs? You're not alone!
An estimated 3 million people in the United States suffer from this painful condition known as sciatica. This pain often comes on suddenly without warning, and the pain can be debilitating. Along with discomfort from the injured sciatica (nerve), it can cause pain, numbness, and tingling, which get worse upon sitting, bearing down, coughing, or sneezing. This type of nerve condition is also referred to as radiculopathy, which can occur in other root nerve endings.
Sciatica affects individuals of varying ages, but it's typically seen in with individuals 30 years of age and older. Sometimes the pain can be caused by arthritis, impinged nerves, infection, herniated discs, spinal stenosis, and other issues that put pressure on the sciatic nerve.
The typical treatments are over the counter NSAIDs such as Ibuprofen, corticosteroid injections, ice and heat packs and rest, but there are new medications on the horizon that could possibly treat sciatica in an entirely different way. This is where clinical trials play an important role in bringing these options to the medical community for continuity of patient care and medical advancement.
Clinical Research of West Florida (CRWF) is a family-owned independent research organization founded in 1995. The company has facilitated more than 1000 Phase I-IV research studies in various therapeutic areas. CRWF is dedicated to providing excellent patient care, and their studies are conducted by board-certified, eligible physicians along with an experienced, highly trained clinical staff.
To find out more about the research and how you can participate in Clinical Research of West Florida's trials, please contact 727-466-0078!
Clearwater
727-466-0078
research@crwf.com
Tampa
813-870-1292
research@crwf.com