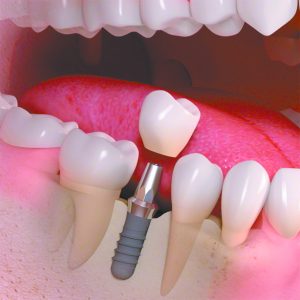 Today, there are so many advancements in dentistry that make getting your dental health issues taken care of— a breeze.  If you have dentures and over the years they've become loose, or are causing sore spots on your gums, it's because they don't fit properly any longer.  When teeth are missing, the bone in the mandible (lower jaw) and the maxilla (upper jaw) will start to deteriorate over time.  Once this takes place, you'll need to have your dentures adjusted.  This is a simple fix.
There is not much worse agony, then when your mouth has some sort of pain.  Whether it's from the aching nerve endings in a tooth, swollen sore gingival tissue, loose teeth, or an ill-fitting denture, don't suffer in silence, because oral pain can easily be treated.
If you'd like to feel more confident about your smile and enjoy the comfort of not having dentures or partials, then getting dental implants is the best solution.  Over the past several decades, dental implantology has advanced into one of the leading procedures performed conveniently right in the dental office.  It's now safer and easier than ever to get permanent replacements for a single tooth, or for multiple ones.  In some cases, where patients have full dental arches needing to be replaced, dental implants can be strategically fixed into the bone, which will be the foundation that the dentures adhere to.  This actually helps to salvage the healthy bone that you have within your jawline, much more so than with dentures alone.  This is because the dental implants stimulate your bone and will contribute to the new regenerate of bone due to the bite occlusion and proper pressure needed for this formation. This process is called an implant-supported denture.
Using cone beam scanners, lasers and digital radiography, this cutting-edge technology, allows dental implants to be placed optimally without the need of scalpels or sutures.  After the titanium posts are placed, your bone will integrate even more securely over a short period of time, making the "roots" of the implant strong and firm.  In many cases, these teeth will be stronger than the patient's original tooth structure.  The crown or prosthetic teeth are made to match your other teeth in size and shape.  To the visible eye, these crowns will appear to be your beautiful natural teeth.
The cone beam scanner is a three-dimensional image of your teeth, soft tissue, nerve endings and bone formation.  This advanced 3D technology allows for optimal treatment planning for countless procedures.
A hybrid denture is also an option for individuals that are missing several teeth in a row but do not wish to wear a partial denture because they prefer something more permanent.  The hybrid denture is more like a fixed bridge, but it covers the empty spaces between teeth, without having to shave down existing teeth like with a traditional bridge.  The hybrid denture adheres securely to the surrounding teeth, making it an ideal choice for many patients.
The best treatment option is, of course, to be proactive in your dental health.  If you have loose teeth, or some form of gingivitis, or advanced periodontal disease, then seeing your dentist is critical to avoid losing teeth and also to treat the bacteria in your mouth.  Bacteria and gingival disease is a fairly good indicator of your overall health.  When your mouth has microorganisms causing disease, getting it treated will prevent it from spreading further into your system.
At Laurel Manor Dental, their dentists are highly trained in these procedures, and they take great pride in your getting you to your most optimal dental and oral health. Laurel Manor  Dental goes one step further because they have an onsite specialist in periodontal disease and prosthesis.  Her name is Dr. Lucia Roca.
After receiving her Doctor of Dental Surgery degree, Dr. Roca spent an additional three years studying at the University of Connecticut School Of Dental Medicine. She was then accepted into the University of Medicine and Dentistry of New Jersey/Rutgers where she performed clinical research, completed her periodontics residency and earned her Masters of Dental Science degree.
As a member of the American Dental Association and the American Academy of Periodontology, Dr. Roca has worked tirelessly to help bring dental care to those in need from the city streets of Newark, NJ to the rural villages of Guatemala. Her dedication and continual interest in acquiring new dental knowledge have deep ties, as Dr. Roca's parents are both dentists, and she herself is now married to a dentist.  Dr. Roca takes satisfaction in explaining the best treatment options for her patients in English, Spanish or Italian!
If you or someone you love is in need of a dental consultation for any of the issues mentioned above, or for other general dental needs or concerns, please call Laurel Manor Dental at (352) 430-1710, or visit laurelmanordental.com.