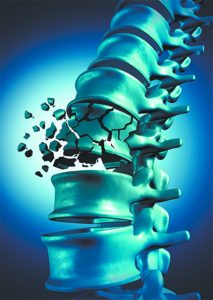 Kyphoplasty is a minimally invasive surgery used to treat spinal compression fractures resulting from osteoporosis. Most spinal compression fractures affect the thoracic spine of the upper and middle back, but some patients experience them in the lumber, or lower, spine. Wherever they occur, spinal factures can cause pain, instability and functional problems.
For the majority of spinal fracture patients, kyphoplasty will help relieve pain, promote healthy function, provide stabilization to the spine and, for some, return height to the vertebra. Clinical results demonstrate that roughly 9 in 10 patients achieve significant pain reduction, some immediately, some in 48 hours, and others within two weeks of the procedure. Height restoration varies among patients, but the best results are achieved when kyphoplasty is performed within eight weeks of the fracture, so the sooner a patient is diagnosed and treated, typically the more satisfying the outcome.
"Kyphoplasty has a solid track record of providing pain relief and improved function with minimal invasion and risk," says Board Certified ONC neurosurgeon Dr. Daniel Robertson. "I've performed many of kyphoplasty procedures and am happy to report a high approval rating among a large majority of patients."
The Procedure
Once the site of the fracture has been determined, treatment is straightforward. Depending on your case, you will receive general or local anesthetic. You lie facedown on an operating table and a small incision is made above the affected vertebra. Using fluoroscopy (x-ray) guidance, your ONC neurosurgeon will carefully insert a narrow tube through the pedicle of the damaged vertebra, through which a tiny balloon is delivered and inflated to expand the space inside the bone and elevate the collapsed segment. The balloon is deflated and removed, and then the new cavity is filled with medical bone cement called polymethylmethacrylate, or PMMA. The cement solidifies in about five minutes,
creating support for the vertebra. The opposite side of the bone may be treated as well to help ensure symmetry and enhance the chance of even height restoration. Each vertebral treatment takes about an hour to complete.
Most patients can go home the same day, but in some cases a night's stay in the hospital is recommended. Patients can usually return to everyday activities as soon as they get home, but should avoid heavy exertion for six weeks or more.
Is kyphoplasty right for you?
The ideal candidate for this procedure is someone whose pain and/or spinal deformity is the result of a recent osteoporosis-related compression fracture, ideally within the previous eight weeks. It is not indicated for people with congenital or long-term spinal problems and people with certain health issues. Kyphoplasty can help to restore collapsed vertebrae, but it doesn't treat osteoporosis, which is a chronic, progressive condition that for many can be managed with a combination of medication and weight-bearing exercises designed for this purpose.
For diagnosis and treatment of osteoporosis and spinal fracture, talk to your doctor, or contact us at ONC about your case. We're happy to be of assistance.
DANIEL P. ROBERTSON, MD
• In the practice of neurosurgery since 1994. Joined Ocala Neurosurgical Center in 2004
• Board Certified in Neurological Surgery by the American Board of Neurological Surgeons
• Bachelor of Engineering Degree from Duke University
• Medical Degree from the University of Tennessee
• Residency in neurosurgery at Baylor College of Medicine in Houston, Texas
• Member, Alpha Omega Alpha Honor Medical Society
• Fellow, the American College of Surgeons
• Certified by the National Board of Medical Examiners
• On staff at Munroe Regional Medical Center & Ocala Regional Medical Center
Dr. Robertson is a member of the American Association of Neurological Surgeons, the Congress of Neurological Surgeons and the Marion County Medical Society.
Dr. Daniel Robertson, his partner neurosurgeons, Dr. Mark Oliver and Dr. Antonio DiSclafani,
Dr. Jacob Freeman and their talented support team are dedicated to providing unsurpassed diagnostic and therapeutic care for a range of neurological and spinal disorders. Our foremost mission is to help you return to a life of health, comfort and vitality.
Ocala Neurosurgical Center