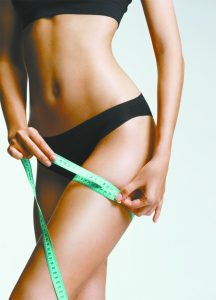 With the new year already here and the holiday season behind us there is no better time than the present to get started on a path of achieving a healthier lifestyle. Maybe you put on a few extra pounds over the holidays and want to fit back into your favorite clothes or maybe you were recently diagnosed with high blood pressure, diabetes, high cholesterol or sleep apnea and are concerned about your overall health? Perhaps you don't have the energy you used to have or suffer from knee, hip or back pain and just want to feel energized and pain free again? Eighty to ninety percent of common medical issues are weight and lifestyle related. The good news is if your weight and overall lifestyle are corrected many of those medical problems improve or are totally eliminated and you can feel better about yourself and enjoy all that life has to offer.
Lifestyle Solutions MedSpa specializes in helping people achieve and maintain a healthy weight through physician-directed individualized programs that teach you how to achieve a healthy, realistic, sustainable lifestyle. "We educate, motivate, inspire, and hold people accountable so that each person starts feeling better about themselves and starts to develop a new healthier routine without feeling like they are on a "diet" or part of a "diet program", says Dr. Michael Holloway, medical director and founder of Lifestyle Solutions MedSpa, "With over 12 years of experience in this field we have become very good at what we do…most people who start our program are very successful and achieve good outcomes. We have helped people get their blood pressure and diabetes under control without the need for medication as well as help people reduce or eliminate many of their common medical conditions so they can feel healthy and confident.
The MedSpa takes the approach that focusing on the individual and establishing a positive, up-beat attitude is key. You will feel the difference from the minute you pull up to the facility and walk through their doors…it is unlike most anything you have experienced…a far cry from the typical sterile, bland, medical facility. You will also be greeted by their warm and friendly staff. "We raise the bar high in the area of customer service", says Shannon Holloway, the MedSpa's executive director and co-founder, "We see ourselves as much in the hospitality industry as the medical field. We want each and every client to feel uplifted and happy about coming to see us. Emotional health and well-being is a large part of one's daily attitude which makes a huge difference as someone works towards their goals of losing weight and developing a revitalized feeling about themselves."
Lifestyle Solutions MedSpa offers much more than just weight-loss programs. The menu of services they offer include numerous FDA approved facial and body aesthetic treatments and procedures all of which are non-invasive and have the benefit of little to no downtime but deliver incredible results. "If someone is looking for a total body make-over we can make that happen", says Dr. Holloway, "We offer everything from Botox® and Restylane® to laser hair removal, facial resurfacing, rosacea and sunspot reduction to Coolsculpting® which dramatically reduces that undesirable diet and exercise resistant body fat we accumulate as we age. We also have a fabulous permanent make-up artist from Japan who has been with us for over five years. She performs some of the best eyebrow and eyeliner results I have ever seen."
The MedSpa also offers a simple and effective way to "escape" from the busy stressful world and take an afternoon to just pamper yourself or you and your spouse or just have a "girls' day out". There are two adjacent amazingly adorned spa rooms that can be booked for a "spa party" where each person can choose from a list of massages, facials or other desirable relaxing treatments and then enjoy a healthy revitalizing lunch while sitting just outside on the private French-style patio all while enjoying relaxing music, soothing sounds from a nearby waterfall and watch the butterflies mingle around the flower garden.
If all this sounds too good to be true, well, it isn't…Dr. Michael Holloway and wife, Shannon, challenged themselves over the past two years to design and construct a new facility in the heart of the Villages® community that they consider to be one of the top MedSpas you will find anywhere around the world. And once you experience the facility and everything they have to offer we think you will agree. You just simply need to come experience Lifestyle Solutions MedSpa. They have two equally unique facilities located in Ocala and Lady Lake. Call and make your appointment for a free consultation TODAY!
LifeStyle Solutions Medspa
1-844-LIFESTYLE
LSMedSpa.com