Dr. Vahora, MD, FACOG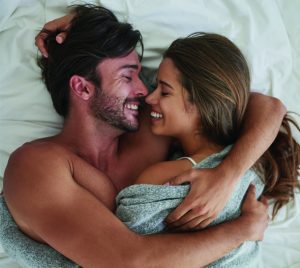 Usually, when we discuss men's health, we focus on exercise, prostate and heart conditions, and cancer prevention.  But there is, of course, more to a man's overall state of wellbeing than preventing diseases and disorders.  Men release a great deal of anxiety though sexual intercourse, but what happens if the spark is gone?
MEN, HERE ARE THREE CRITICAL QUESTIONS:
1.    Are you getting enough sex?
2.    Is it satisfying?
3.    Is your partners discomfort causing you
less pleasure?
The issue that Dr. Parveen Vahora sees for many men and women is that the aging process takes a toll on their bodies, which can lead to less than stellar pleasurable moments with their significant other.
WOMEN: DO YOU SUFFER FROM PAINFUL INTERCOURSE? IF YOU DO, YOUR PARTNER PROBABLY SUFFERS TOO.
MEN: DO YOU WANT BETTER SEX AND MAYBE MORE OFTEN (MOST LIKELY THE ANSWER IS YES)?   
The ugly truth is that many postmenopausal women, as well as pre-menopausal and even women after giving childbirth, have vaginal disorders, pain, and issues that they often times withhold and keep to themselves. They think that it's just a normal part of the hormonal process, but there are many options to relieve vaginal and vulvar atrophy. Vaginal Atrophy disrupts your sex life!
WOULD YOU LIKE TO TURN BACK THE CLOCK TO WHEN YOU FIRST MET?
Mona Lisa Touch® is an advanced procedure the revitalizes the vagina and makes it feel like a younger vagina.  For Countless women and their partners it has turned back the clock of time.
This advanced technology is called the MonaLisa Touch®. It is a new laser therapy for the vagina and vulvar. There are no medications, not cutting and no lengthy healing times with this procedure.
It's similar to having a basic Pap smear test done. The laser does not hurt or cause any pain. You will only feel tiny vibrating sensations from the machine, and the best part is that the entire procedure is accomplished in an outpatient, office setting.
The laser assists with the bodies cell renewal and will regenerate the mucous membrane and help with the restoration of collagen and renewing the proper trophic balance to the membrane.
Now it's possible to have relief from vaginal and vulvar atrophy due to the MonaLisa Touch's® ability to gently improve the tissue of the vaginal mucosa. The laser stimulates the production of collagen, improving the functionality of the treated area and restoring the proper trophic balance to the mucous membrane.
FOR MEN AND WOMEN, THE PROCEDURE CAN BE EXACTLY WHAT YOUR RELATIONSHIP HAS BEEN MISSING FOR YEARS.  SCHEDULE A CONSULT TODAY!
Parveen Vahora, M.D.
A Board Certified, fellowship trained laparoscopic gynecological surgeon, Dr. Vahora owns a private practice in Trinity, Florida. In addition to being the only practitioner in the area to offer the MonaLisa Touch® Laser, Dr. Vahora performed the first single¬-site robotic hysterectomy in North Pinellas County. She is highly trained in minimally invasive procedures for conditions such as pelvic pain and is able to conduct sophisticated genetic testing.
Dr. Vahora is an expert on sexual health and intimacy.
If your sex life has gone to the wayside or lost its spark please contact us to schedule a consultation. Call today to schedule your Mona Lisa Touch consultation at (727) 376-1536.
*Dr. Vahora is now offering genetic testing for men who may have personal or family history of colon, stomach, prostate, stomach cancer, or for women with a family history of breast, ovarian or uterine cancer.
The genetic testing may be free if patient qualifies even if they don't have insurance.
Don't just live with your disorder, get the relief and new beginning that you are worthy of.
Call today to schedule your MonaLisa Touch consultation at (727) 376-1536.
727-376-1536
Info@ParveenVahoraMD.com
www.ParveenVahoraMD.com