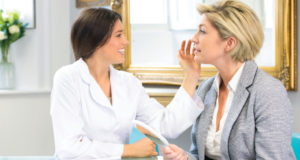 Plastic surgeon Tutu Cheng, M.D., is often asked why someone should see a plastic surgeon to have little "tweaks" made to their bodies.
Dr. Cheng, who is fellowship-trained in plastic surgery, says her answer is always the same – education and training.
"The steps to becoming a plastic surgeon include many years of surgical training to operate and perform procedures on the entire body; i.e., from head to toe. Within the discipline of plastic surgery, there is a dedicated focus and appreciation for the face and complex anatomy. This translates to having the medical knowledge and technical expertise that is necessary in providing the best aesthetic outcomes for patients,'' she said.
Dr. Cheng has a unique approach to plastic surgery.
She believes you need to treat the entire patient not just the area they may have an issue with or need surgery to correct.
"As a plastic surgeon, I have the ability to help and heal patients from a surgical as well as psychological standpoint,'' Dr. Cheng said. "I am trained to make a patient look and feel whole again. My patients often come to me after having been afflicted with a devastating life event, whether it be cancer or trauma or some other process. Regardless of the reason, I am tasked with providing a surgical solution to restore form and function in order for them to return to and maintain a fulfilling life."
From breast reconstruction surgery after a mastectomy to body contouring after significant weight loss to cosmetic procedures such as eyelid and neck lifts, Dr. Cheng listens to the patient's concerns and is sensitive to their needs. After meeting with the patient, Dr. Cheng develops a personalized plan that outlines and meshes with the patient's desires.
Patients looking for facial procedures, both surgical and non-surgical such as injections and fillers, also get the personal touch from Dr. Cheng. From an aesthetics standpoint, her goal is to help a patient enhance their natural features without appearing as if they had anything "done."
Dr. Cheng feels subtlety and discretion are key in maintaining timeless and classic beauty when discussing aesthetic procedures. In reconstructive cases, Dr. Cheng's goal is to restore form and function for the patient and get them back to as close to their usual self as possible in order to maintain a fulfilling lifestyle.
One procedure she gets asked about a lot is the use of dermal fillers. People want to know the benefits to having injections or dermal fillers. They also want to know how long the effects will last.
"Injections and fillers can do wonders in helping an individual look and feel refreshed and vibrant. The physical improvement will definitely provide a boost in one's self-esteem and confidence level, which is the ultimate benefit,'' she said. "Injections will help in smoothing out the fine wrinkles in the upper face and around the eyes that are the result of years of facial expressions, like smiling and frowning. In doing so, a more relaxed and youthful appearance can be achieved."
Dr. Cheng said fillers will help with the deeper creases on the face, especially the "smile lines" around the nose and mouth.
"Fillers will "fill in" these deep creases and soften one's appearance, creating a rejuvenated appearance,'' Dr. Cheng said.
Although results may vary with each individual but, in general, injections last about 4 to 6 months and dermal fillers last about 6 to 12 months, she said.
Dermal fillers and injections are becoming more popular as well.
"In 2017, more than 7 million injection procedures and nearly 3 million dermal filler procedures were performed in the U.S. Your friends and family may or may not be willing to admit they want cosmetic procedures, but clearly it is very well perceived and received in today's culture,'' Dr. Cheng said.
She also gets asked how long the effects will last.
"I would plan ahead and schedule your consultation at least 1-2 weeks before any big party or get-together with friends and family to ensure you will be looking your best. Injections and fillers work differently,'' Dr. Cheng said. "The effects of fillers are nearly immediate and you will definitely appreciate its benefits by the end of your office visit. Injections, on the other hand, takes about 72 hours to fully relax the muscles of facial expression that were targeted during the procedure."
She said there are minor side effects with both procedures. Patients may experience localized redness, swelling and bruising, but these side effects usually go away within a week.
In addition to the dermal fillers and injections, Dr. Cheng performs rejuvenation and reconstruction procedures as well.
"My practice welcomes patients of all ages but I tend to focus on adults who wish to enhance their personal appearance. There is no age limit in helping patients' look and feel their best,'' Dr. Cheng said.
Dr. Cheng feels that the physician-patient relationship should be a strong one and makes it clear that their health and overall outcomes are her priority. She takes to heart advice she was given about treating patients like one of her own family.
"Since a young age, I have always wanted to help people. It is very cliché, yet still very much the truth. The ability to help and heal is a wonderful qualification to have. Being a doctor is a very challenging, yet humbling profession. The reward lies in the rapport established with patients who've entrusted you with literally their body and life," Dr. Cheng said.
To make an appointment, please call Dr. Cheng's office at 844-634-DOCS (3627) or visit the web site at HeartOfFloridaPhysicianGroup.com. Her office located in at 410 Lionel Way, Suite 204, Davenport, FL 33837.
Dr. Cheng is a member of the medical staff of Heart of Florida Regional Medical Center. Heart of Florida Regional Medical Center is owned in part by physicians.
Heart of Florida Regional Medical Center
HeartOfFloridaPhysicianGroup.com
Dr. Cheng's office at 844-634-DOCS (3627)
410 Lionel Way, Suite 204
Davenport, FL 33837