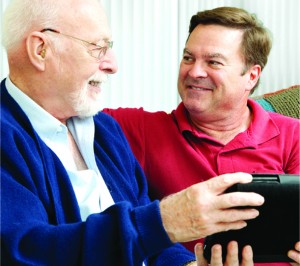 In the United States today, there are 36 million people living with untreated hearing loss.There are many reasons why each and every one of them should seek hearing care, including improvementof quality of life, but the foremost reason is SAFETY.
Studies have shown that hearing impairment not only affects business, social and personal relationships, it also causes reduced alertness, and increased risk to personal safety and the safety of others.
The truth is, although one in ten Americans have hearing loss it is older men and women who are much morelikely to suffer from this life-altering condition. In fact, the failure to hear smoke detectors and take quick actionis the major reason adults 65 and older are more than twice as likely as any other age group to die in a home fire.
Also keep in mind weather alerts and area disasters. People with hearing loss must be able to hear the weather and news alerts. The increased stress of any weather or area disaster taxes the brain. For those that manage without hearing aids, the hearing loss makes these types of events harder to handle. For example, someone who has hearing loss and does not have hearing aids, his or her brain is stressed trying to both hear and focus on the messages from the news media and emergency managers while feeling anxious and stressed. Using hearing aids would help an individual cope with preparations and aftermath recovery by making it easier for him to listen.
For your own safety, and for the safety of your family, friends and coworkers, taking a few minutes for ahearing-loss screening can pay enormous dividends.
Currently a fellow of the American Academy of Audiology and the Florida Academy of Audiology, Dr. Rosier focuses on adult and pediatric diagnostic audiometry, tinnitus evaluation and management, amplification, auditory electrophysiology, and aural rehabilitation counseling.
"Being an audiologist is my passion. Improving the quality of life for my patients and their families by offering one-on-one personalized care is so rewarding.
My goal is to empower patients to manage their hearing loss and improve their quality of life by providing patient-centered care that incorporates evidence-based practice, compassion and expertise."
Hear USA
Brownwood Town Center – 1-855-270-1587