Did you know that 1 in 5 people develop skin cancer?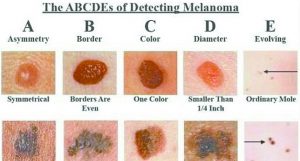 There are different types of skin cancer, and melanoma is, by far, the most harmful of them all.  Every hour a person dies of melanoma, and this year alone, it is estimated that over 132,000 new cases of melanoma will be diagnosed. On average skin cancer screenings take about fifteen minutes.  These few minutes of your time could potentially save your life.
In addition to diagnosing melanoma, a thorough skin cancer screening and examination can detect many other skin disorders. There are more than 3,000 different skin disorders than are diagnosed by dermatologists. It is recommended that you have a skin screening at least once a year. And, because some forms of skin cancer grow very rapidly, if you are experiencing any new forms of lesions, bumps, moles that are of concern, you should schedule an appointment with your dermatologist immediately.
The symptoms to look for in moles or lesions are outlined in this simple acronym, ABCDE:
A—Asymmetry
B—Border Irregularity
C—Color-Variegated or a Halo Effect
D—Diameter
E—Evolving
In Addition to the symptoms above, there are supplementary signs to look for, which include:
A—Amelanotic (Pink or Red Lesion)
B—Bleeding/Bump (Raised Lesion)
C—Color Uniformity
The best way to prevent skin cancer is to take a hands-on approach to protecting yourself.
– Avoid the sun between 10:00 am and 3:00 pm
– Wear sun protective clothing (hats, long sleeves)
– Apply sunscreen with SPF of 30 or higher every two hours
– Avoid sitting by windows that allow in UV light (wear SPF)
– Get regular skin cancer screenings and exams
Because early detection is the key to successful treatment, continual emphasis on the importance of regular skin screenings are critical to your health. Proactive prevention through sun protection and early diagnosis continue to be the smartest strategies.
Dr. Tran has dual-board certification in Dermatology (since 2004) and Mohs Micrographic Surgery (since 2007). He is a fellow of the American Osteopathic College of Dermatology and American Academy of Dermatology. He did his undergraduate work at Case Western Reserve University, and received his medical degree from Ohio University College of Osteopathic Medicine. Dr. Tran completed his residency and post-graduate training in medical and surgical dermatology at Nova Southeastern University in Florida, where he served as Chief Resident.
Dr. Tran has been published in leading dermatology journals and has presented at national conferences for the American Osteopathic College of Dermatology and the American Academy of Dermatology. He is renowned for his work in Mohs micrographic surgery and facial reconstructive repair for skin cancer surgery, and his practice fostered the development of the Il Duomo Sim Skin model.
Dr. Tran was nationally recognized with Most Compassionate Doctor and Patients' Choice Award, as a reflection of the high quality of care that he and his staff provide.
Village Dermatology
352-751-6565
1950 Laurel Manor Drive
Building 220—Suite #224, The Villages, FL 32162