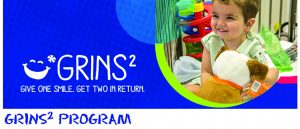 South Florida families in need of financial assistance to help cover a child's medical care costs have a new found friend with the UnitedHealthcare Children's Foundation's grant program.
Qualifying families can receive up to $5,000 per grant with a lifetime maximum of $10,000 per child to help pay for their child's health care treatments, services or equipment not covered, or not fully covered, by their commercial health insurance plan.
How the grants can be used
Families frequently use the UnitedHealthcare Children's Foundation medical grants to help pay for treatments associated with medical conditions such as cancer, spina bifida, muscular dystrophy, diabetes, hearing loss, autism, cystic fibrosis, Down syndrome, ADHD and cerebral palsy, to name a few.  The grants have also been used for physical, occupational and speech therapy, counseling services, surgeries, prescriptions, wheelchairs, orthotics, eyeglasses and hearing aids.  If there is a financial need, UnitedHealthcare Children's Foundation hopes to help out.
In Florida alone, the Foundation has awarded more than 735 grants since 2013. Nationally the number exceeds 13,000 since 2007 valued at more than $35 million.  It now has a goal to surpass 20,000 grants by Jan. 1, 2020.
UnitedHealthcare South Florida CEO Nicholas Zaffiris is joining the campaign to encourage families to apply.  "Please join us in sharing the news that child medical grants are available so together we can help more children and families in Florida as well as across the U.S." said Zaffiris.
Eligibility
To be eligible for a grant, a child must be 16 years of age or younger. Families must meet economic guidelines, reside in the United States and have a commercial health insurance plan. Grants are available for medical expenses families have incurred 60 days prior to the date of application as well as for ongoing and future medical needs. Families do not need to have insurance through UnitedHealthcare to be eligible.
How to apply
Applications and additional information is available at www.UHCCF.org.
The UnitedHealthcare Children's Foundation (UHCCF) is proud to announce the Grins2 Program! It's your chance to donate a Grins to Go® gift bag or an Oliver™ Bear to one of the participating organizations across the country. When you do, one child receives a dose of happiness and another child will be impacted through a UHCCF medical grant, made possible by the funds raised by those who purchase the gifts for personal donations or through corporate giving.
Each Grins to Go drawstring bag is filled with an assortment of popular toys and activities designed for boys and girls between the ages of 5 and 12. The plush Oliver Bear is one of the stars of the Oliver & Hope® storybook series and he can be donated for only $15!
Sales from the recently released "Oliver & Hope's Good Deeds Day" – and the other books and toys from the collection – fund grants offered by UnitedHealthcare Children's Foundation to help families pay for their children's medical expenses not covered or fully covered by their health insurance plan. All four books are available at Amazon through UHCCF.org/shop for $16.95 each (hardcover) and $5.99 (paperback).
Pay it forward: How you can help
Don't need a grant but want to help spread the word or help support the children's medical grant program? Here's how you can help:
• Become an ambassador by visiting www.UHCCF.org today and sign up to receive foundation announcements and information, including examples of messages that can be easily shared via social media
• Like the UnitedHealthcare Children at www.facebook.com/uhccf
• Help support medical grant funding by purchasing children's story and joke books and toys, available via Amazon or uhccf.org sales of which go to the grant program
• Become a Grins2 Program supporter:  Purchase a Grins to Go bag (or more) that are filled with books and toys and delivered to children battling life threatening illnesses across the country. It's 2 for 1 smiles with the child receiving a dose of happiness and another the benefit of additional funds from these purchases for medical grant outreach.