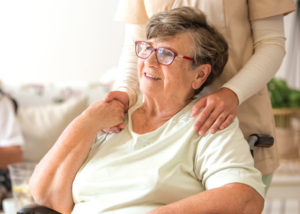 One of the hardest things to accept in life is the changes we experience as we get older – and it is not only scary for the person experiencing these changes, but it's hard to measure the damage done to those closest to the person affected. We've already touched on one of these conditions in this book – osteoarthritis – but this one is a little more concerning to our aging community – Alzheimer's disease.
Alzheimer's affects one-in-ten people age 65 and older and an estimated 5.5 million people age 65 and older – as well as roughly 200,000 individuals under the age of 65 – suffer the effects of Alzheimer's disease. Many of these people will go on to have dementia before finally passing away. While this condition may seem more like a mental health disorder when in fact it is a very physical condition that is degenerative and very progressive – and as far as we know, irreversible.
However, some studies believe that CBD may have the potential to slow the progression of Alzheimer's disease, and possibly even be the first method with the potential to repair the damage that has already been done.
Since the endocannabinoid system plays a role in memory, it should not come as a shock that CBD may be able to play a part in the elimination and even the prevention of Alzheimer's disease. A Ohio State University professor and an expert on brain inflammation and Alzheimer's says that their surveys have found that individuals who smoked marijuana in the 60s and 70s "hippie era" are not getting Alzheimer's at the rate that was expected, based on previous retiring generations. However anecdotal this revelation is, it still stands to reason that inflammation and neurological modification are necessary in fighting and preventing Alzheimer's disease.
The CBD Store Lakeland
At Your CBD Store, we believe in bringing the highest quality CBD products to market. We formulate our products with our customers' needs in mind, using other cannabinoids and terpenes, creating unique synergies that increase efficacy, target specific ailments, and increase the binding of CBD. We believe you the customer should see our product from soil to oil and should be seeing the best product on the market along that journey. By setting the standards in the CBD industry, Your
CBD Store Lakeland is moving plant medicine to the 21st century.
SunMed Broad Spectrum Hemp Oil and SunMed Hemp Oil products are intended to be used as an herbal supplement. Please consult your doctor before you quit taking any medications with intentions of replacing them with the natural and holistic option of CBD. These products have not been reviewed by the U.S. Food and Drug Administration (FDA) and are not approved treatments for any medical conditions.
Your CBD Store Lakeland
3145 S FL Ave., Lakeland, FL 33803
(863) 937-3195
Lakeland.CBDrx4u.com