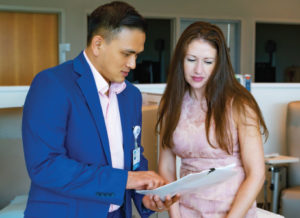 The concept of value-based care was first made known in 2006 in a book published by Michael Porter titled "Redefining the Healthcare System." Since then, value-based care programs have been introduced across the country; however, the challenge lies with healthcare providers. There are still many healthcare providers who have not embraced value-based care, and even with those who have, there is a significant variance in the degree to which value-based healthcare is provided. Recently, Lakeland Regional Health selected Reliance Medical Centers for an initiative designed to provide end-to-end value-based care starting with breast cancer patients.
In this article, I interview Dr. Toan Nguyen and Dr. Vanessa Prowler, board-certified, fellowship trained breast surgeons with the nationally accredited Comprehensive Breast Cancer Program at the Hollis Cancer Center. They explain why they lead with value-based care and why they team with Reliance Medical Centers to deliver better healthcare outcomes for Reliance patients.
Q: "Why is the Hollis Cancer Center leading the way with value-based care?"
A: "Providing value-based care is in the best interest of patients, and that, of course, is our primary concern at Lakeland Regional Health. Breast cancer has the highest survivorship rate of any cancer, with a greater than 95% chance of women diagnosed with early-stage breast cancer still alive at ten years. However, this diagnosis has a massive impact on a patient's life far beyond the disease itself, such as pain, emotional, relationship, and self-esteem stresses, etc. which drive down the overall quality of life. What we know is that the more support and guidance we give patients in dealing with the collateral effects of breast cancer, the better the overall health outcome and the longer our patients stay alive. As a result, our value-based patient care initiatives reach beyond treating a patient for the disease to include provision of care and services to improve a patient's overall quality of life."
Q: "How is this achieved?"
A: "We achieve this in numerous ways; for example, both of us are the only certified Hidden Scar specialists in Polk County. This skillset significantly reduces the visibility of post-operative scarring and can help retain a patient's breast shape, both of which help patients with reduced discomfort and improved self-esteem. We take great care and significance in the cosmetic outcomes following breast surgery as the scar is often the only reminder of a patient's diagnosis. Another example is the way we utilize important data in real time from current clinical trials research. A major national, multi-institutional study that was published in the New England Journal of Medicine in 2018, requiring over a decade to obtain results, showed that about 70% of patients who are diagnosed with estrogen-positive, node-negative breast cancer do not need chemotherapy following surgery. Acting on this research means that it is not necessary to give chemotherapy to the majority of patients diagnosed with breast cancer. Less is sometimes more, and this considerably reduces suffering, pain and discomfort for the patient.
Additionally, we have created a strong patient navigation team to help patients understand and navigate all aspects of their disease and treatment. This helps patients considerably who generally find medical conditions like cancer and the system, in general, very intimidating and complicated. Our support helps them get through the system, helps them understand more and in turn, reduces anxiety and stress. So, by looking closely at each patient as an individual, knowing more about them and providing a more holistic care solution give rise to better outcomes with less discomfort and stress to the patient.
Also, our patients take comfort in our membership in the Mayo Clinic Care Network, where both of us, as well as all our physicians, have access to Mayo Clinic's world-renowned expertise and can seek second opinions to complex medical questions."
Q: "Why have you selected Reliance Medical Centers to collaborate with you?"
A: "Much like ourselves, we saw that Reliance Medical Centers had introduced breakthrough value-based care initiatives like giving patients a Personal Medical Concierge and a Care Focus Team, which is innovative and not common in the field, making it very easy for us to collaborate with them. Relevant patient information passes freely between the two organizations at different levels, which in turn enables both organizations to provide the best and most appropriate care during the initial treatment period and beyond on an ongoing basis.
Putting patients at the center of care means that we need to know more about the patient, for example, their social and family settings in addition to the patient's medical history. Open lines of communication and complete transparency between the primary healthcare provider and the specialist is a real benefit. It allows us to go beyond reading a patient's medical records so that both organizations can offer a comprehensive custom care solution throughout the patient's life."
Q: "How will this collaboration work?"
A: "Initially, it is all about communication. Because Reliance Medical Centers provides each of their patients with a Medical Concierge and a Care focus Team who can communicate freely with us and our patient navigation team, this means that both organizations can work together as a single holistic healthcare solution provider. Furthermore, we will introduce additional systems and protocols to streamline the process, minimizing delays, and decreasing unnecessary treatments. Having a relationship with Reliance Medical Centers, which is also leading the way in delivering value-based care, makes it far easier for both organizations to work together to provide a solution that ensures the best possible health outcomes for patients."
During the interview, it was clear that being fully committed to taking value-based care to a whole new level can help deliver the best health outcomes while at the same time reduce treatments, stress, and anxiety for patients, improving their overall experience. Beyond this, what is particularly exciting is that this innovative collaboration further elevates the care process, increasing the opportunity to deliver the best possible outcomes.
Reliance Medical Center

Lakeland
3655 Innovation Dr.
Monday – Friday: 8am – 5pm
Saturday: 9am – 1pm
Lab: 7am – 4pm
Winter Haven
111 Avenue A SE
Monday – Friday: 8am – 5pm
Lab: 7am – 4pm
RelianceMedicalCenters.com