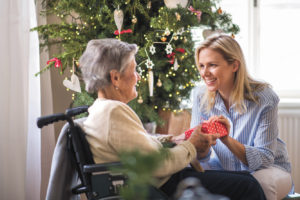 Did you know that the AARP reports that 89% of patients want to remain in their home, Lake Centre Home Care provides private supportive care for those who want to maintain their independence, yet need some form of assistance? In addition to coming to your home, they are available to support their clients with temporary stays in the hospital, or by recommending senior care facilities or wherever help is needed.
During the holiday season, the taxing effort to get around, shop, visit with family and the challenges of feeling left out can take its toll on the elderly. For most people, the holiday season is a special time of year spent with family and friends building lasting memories. But for others, the holidays evoke feelings of stress, sadness and loneliness. An increase in stress, a busy work schedule, and missing loved ones (who are no longer with us) are all triggers, which can lead to depression over the holidays. People who have struggled with adverse life events such as divorce, unemployment, bereavement, chronic medical problems, psychological trauma, alcohol or substance abuse are more likely to develop depression.
Aging can be challenging not only relating to our health but also our ability to perform daily tasks and to live the life we deserve. When we're younger, we often take for granted the ability to easily button a shirt without arthritic fingers or the capacity to walk safely from the bathroom to the living room without tripping over an area rug and getting hurt.
Getting the Help, You Need
During the holiday season and beyond, there are many ways to get help, but when it comes to healthcare, Lake Centre Home Care has the answers. The following 4 issues are indicators that your loved one may need assistance:
#1 Many older individuals may become uncomfortable and begin to pull back from social activities that they used to love. This often happens because they feel embarrassed about being forgetful or they become nervous in social situations due to feelings of inadequacy.
#2 Seniors often find it confusing to sort through all of their medication and to remember which pills they should take at what times. The also sometimes forget to eat or are unprepared for daily tasks.
#3 Individuals with chronic medical conditions need frequent medical treatment. For example, individuals with COPD often have incidents of fluid build-up, which can make it difficult for them to breath. They frequently feel as if they are drowning and call 911 often due to this terrifying sensation. When under home health care, their team of nurses and medical director can prevent these readmissions to the hospital by several means. The medical team can prescribe medications to block fluid build-up, have a daily vital reading monitored by a home health program, and have specialists help with understanding nutrition, and how to keep calm and learn to breathe more functionally through the episodes.
#4 When it becomes taxing to complete essential tasks like driving to the doctor's office because they get lost, or they are apprehensive about driving in heavy traffic, they may need someone to step in and to help them make decisions for their long-term care options, so that they can live a safe and healthy life.
These warning signs are just a few that seniors face as they age. If you or a loved one could benefit from assistance, it's important to seek help as soon as possible.
Home Health Services
. Skilled nursing services
. Physical Therapy
. Occupational Therapy
. Speech Therapy
. Home rehabilitation services
. Nursing assessment at each home visit to monitor
and manage progress
Lake Centre Home Care is a skilled home health agency that provides nursing; physical, occupational, and speech therapy; along with home health aides and medical social services.
Lake Centre Home Care offers comprehensive patient care including physical therapy. Lake Centre Home Care accepts Medicare Assignment and private insurance with pre-authorization.
To schedule a private tour or to find out more, please call Lake Centre Home Care today.
Lake Centre Home Care
310 Market St., Leesburg, FL 34748
(352) 315-0050
HHA# 299992424