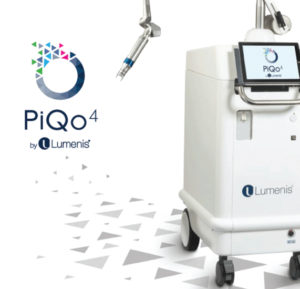 Lasers have been used for many years to treat scars, wrinkles, age spots, sun damage, acne, etc. Although many laser treatments can produce favorable results, there is always a risk of scarring and the downtown while healing can be significant. The cost of some laser treatments can be thousands of dollars and may require time off work to heal. Many people do not have the money or the time, however they may be searching for an alternative treatment.
What is the PicoFractional Laser Treatment?
The PiQo4 Laser by Lumenis Aesthetics is primarily associated with tattoo removal. This amazing laser uses photoacoustic sound waves and energy to bust ink into small particles so the body can remove the pigment. These same sound waves can also cause a process called neocollogenesis (new collagen growth) by microscopically stimulating the dermis, which is the live layer of the skin. The photoacoustic waves initiate an enhanced inflammatory healing response resulting in increased production of collagen and elastin. The PiQo4 utilizes nano and picosecond technology which reduces the thermal (heat) damage to the skin during treatment, making it a perfect laser treatment for people on the go!
The PicoFractional Laser is recommended for the treatment of:
Unwanted pigmentation and lesions
Skin irregularities
Stretchmarks
Melasma
General skin toning and rejuvenation
Facial lines and wrinkles
Sun damage
Surgical, traumatic and acne scarring
Amazing Benefits of the PicoFractional Laser Treatment:
Enhanced Brightening & Collagen Growth
– The use of photoacoustics generates an inflammatory response stimulating new collagen growth and skin renewal.
– This is combined with high energy that reaches deep in the skin layers and shatters multiple types of pigments to achieve brighter skin and an even skin tone.
Lower Risk
– Treatment with non-thermal (lower heat) energy and PicoFractional technology results in reduced risk of thermal injury/burns.
Minimal Downtime
– This laser treats tiny areas at a time, leaving surrounding healthy tissue intact and unaffected. This leads to a more manageable recovery.
– Can resume normal skin care routine and/or wear makeup immediately after treatment.
Fast Treatment
– Each session takes approximately 10 minutes.
– Can be performed on your lunch break!
Affordable
– Each treatment is $200, significantly less than more aggressive laser treatments.
– Results are apparent after just one treatment.
Jeanna Parker is the owner and Nurse Practitioner at Bella Viságe Medical & Aesthetic Rejuvenation. Although she was very impressed with the ability of the PiQo4 to treat unwanted tattoos, she is thrilled with the results of the PicoFractional treatments. There are always clients who may best be served by more invasive laser treatments, but the PiQo4 Laser is by far her favorite laser. The speed of the treatments combined with the amazing results are what make this treatment one of the most popular at Bella Viságe. For a free consultation with Jeanna, call 863-333-0553 or book online at bellavisagelakeland.com.
Bella Viságe
119 Traders Alley
Lakeland, FL 33801
863-333-0553
bellavisagelakeland.com