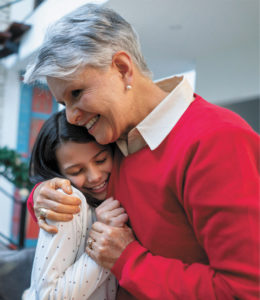 When we think of the holiday season, we typically visualize family dinners, lasting memories, and some relaxation, and we look forward to a peaceful experience. After all, holidays are a time to get away from our stress-filled lives and visit family and friends. In reality, these things hold true, but there is one blinding caveat that we all seem to gloss over—our sedentary lifestyle during the holidays because we don't take the time to exercise or keep our physical therapy appointments. Exercising through the holidays is critical!
Instead of taking the traditional family car drive to enjoy the festive lights in your neighborhood, take a walk. Walking after your evening dinner can be a peaceful experience for the entire family, but also it will facilitate the extra steps and activity that your body craves. In light of walking, when you're out shopping, park further away from the mall or stores to ramp up your cardio.
Hauling luggage, parking the car at the airport, waiting in the security line, worrying about catching our connecting flights, or traveling in the car or bus for long-distance in heavy traffic are all unpleasant experiences that we encounter while trying to get to our favorite destination.
Slips and falls are more common this time of year. If you're up north visiting loved ones, be careful and use extra caution if it's snowing or if there is ice on the ground, steps, and pavement. When you enter a building or home, make sure you get the majority of wet snow off of your shoes to avoid slipping as well.
One of the most common travel concerns in people with known heart disease, as well as healthy individuals, are DVT's, or deep vein thrombosis. DVT's can occur in travelers in the air, railways, or by road. Both chronic and acute symptoms could be a sign or lead to a DVT (deep vein thrombosis). DVTs are life-threatening and should be treated immediately. Deep vein thrombosis is a blood clot in the veins that are formed deep within the legs. Vascular malformations, pelvic tumors, or sitting for extended periods of time are some of the risk factors that go along with DVTs. Every year, over 2 million people are affected by deep vein thrombosis, and sadly over 200,000 of these cases end in death.
To alleviate your chances of DVT, it's imperative to try and move your toes, ankles, and do calf raises in your seat. If you can get up and walk around, that's a valuable method to keep your blood flowing correctly back to your heart. If your trip is over 3 hours, or if you have venous insufficiency, wearing compression stockings is critical to keeping your vascular structures healthy.
You can also do the same little exercises or movements while you're watching Rudolph or Elf with the kids. During the movie, wiggle your toes, stand up and sit down repeatedly for a few minutes, or do leg lifts. All of these flexion and extension movements will keep your circulation pumping and create oxygen-rich blood, and warm muscles.
Take the time to move this holiday season. Be thankful for your range-of-motion, and take advantage of dancing with your grandchildren, or taking a walk with your friends.
If you often experience pain, stiffness, immobility or balance issues, being proactive about physical therapy treatments and techniques can help to alleviate or lessen these circumstances.
For patients suffering from pain, the first step to recovery is to receive a proper diagnosis so the cause of the symptoms can be determined. Physical therapists are trained to administer flexibility and strengthening tactics along with body mechanics and awareness techniques to get your body moving and creating a much less painful range-of-motion. With ongoing therapy, most people see remarkable outcomes and lasting results.
Innovative Therapies Group offers massage, physical, occupational and speech therapy. They embrace alternative and eastern medicine philosophies and will help you explore new inventive ways to combat your pain or disorders.
Types of Treatment Available with Physical Therapy
• Assessment and Evaluation Programs
• Difficulty Walking
• Fall Prevention and Balance Retraining
• Fitness and Wellness Programs
• Functional Training
• Gait Training and Balance Programs
• Manual and Massage Therapy
• Neurological and Neurodegenerative Retraining
• Vestibular Rehabilitation
Innovative Therapies Group, Inc.
352-433-0091 | innovativetherapiesgroup.com