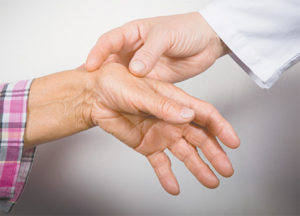 Disease states or trauma can damage the joint, bones and soft tissue in our hands, thumb, and fingers; however, the most common hand disorder is caused by inflammation and is widely known as arthritis.
Unfortunately, Painful arthritis and ligament discomfort in the thumb is very common. The trapeziometcarpal joint (TPCM) becomes inflamed and immobile in certain situations causing the individual a great deal of difficulty with daily tasks.
Arthritis
Arthritis is an inflammation of the joints. Some of the general arthritic symptoms are joint pain, stiffness, warmth, immobilization, and loss of range of motion, and inadequate blood flow. While there are many forms of arthritis, the primary type of arthritis is Osteoarthritis (OA) With Osteoarthritis wear and tear damages the cartilage in the joints and causes friction between the bones rubbing together. This results in painful swelling and inflammation.
Common Symptoms of Arthritis:
• Swollen Joints
• Joint Pain
• Stiffness
• Redness
• Sensations of warmth or burning
• Decreased range-of-motion
• Limited flexibility
• Loss of strength
Conservative Treatment
The standard therapies are NSAID's, corticosteroid injections and the RICE method (rest, compression, ice, and elevation). Resting your hand mobility and motion like gripping is imperative for healing. In some cases, your orthopedic surgeon can give you a brace or compression device to help immobilize your hand, but it's key to not try and get back in the game too soon.
When the conservative approach to treatment fails which is very common as arthritis progresses, surgery provides an effective permanent treatment to both for both pain and restoration of function. The surgery May either be minimally invasive with limited success. For more severe deformities due to arthritis and open reconstruction is preferred. There are over 50 different procedures performed for this type of arthritis, however, a procedure described as Burton and Pellegrini is still considered the Gold standard for the reconstruction. It provides superior power and durability to the hand and provides excellent pain relief as well.
Surgical Treatment
When it comes to CMC arthritis of the thumb, there is a standard surgical technique that surgeons have been using for decades called the Burton and Pellegrini method. The Burton and Pellegrini surgical procedure can be done under general or local anesthesia with twilight (very relaxed state, but not completely under). A small incision is made just at the base of the thumb and wrist, which exposes the trapeziometcarpal joint, FCR tendon and radius. The FCR tendon is freed up and fed through the metacarpal bone, and the damaged bone, cartilage and synovial fluid are removed.
This procedure allows optimal healing and function of the thumb and hand. The recovery period is a few weeks, and you will need to rest your hand, and possibly do some physician directed stretching over time.
An orthopedic surgeon will evaluate your symptoms and pain level, and from there create an individualized plan for your best treatment options. They will provide you with the best solution for your needs.

Christopher Manseau M.D.
Fellowship Trained Board Certified Orthopaedic Surgeon Fellow American Academy of Orthopaedic Surgeons
Earning his medical degree in 1991 from Tufts University School of Medicine, Dr. Manseau has over 25 years of experience in the practice of orthopaedic medicine. Dr. Manseau is a board-certified orthopaedic surgeon and a Fellow of the Academy of Orthopedic Surgery.
Dr. Manseau has practiced in North Central Florida since 1997. In 2006, he established Orthopaedic Specialty Care (OSC) to further his desire to provide the ultimate in personalized care. This emphasis on individualized medicine earned him the Compassionate Doctor Award in 2011, 2012, 2013, and 2015.
Based in Ocala, Florida, OSC provides comprehensive surgical and nonsurgical solutions to the wide range of orthopaedic issues confronting all ages.
To schedule your consultation, please call (352) 624-0004.
352.624.0004 | www.oscllc.net