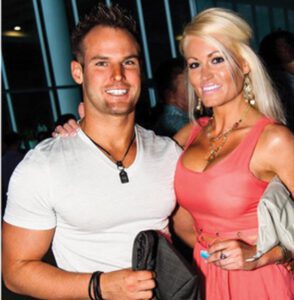 Our New Year's resolutions probably include weight loss goals and working out at this time of year. But what's the best way to get there? Over the years, most people have toned up and lost a few pounds, only to regain them rather quickly once they fall off the exercise and healthy diet routine. You only get one body, so now is the time to get serious about your health and fitness goals.
You have multiple options where you choose to work out, but if you think back about why you haven't reached your goals, it might be due to the choices, the place, the people, the lack of support and motivation. UST Personal Training is unique. It's a private training experience from experts that have been in the industry for the past 15 years. Their training methods are highly effective, and they utilize the latest advancements in exercise. Where you work out is your choice; why not choose the best?
UST's Owner and Founder, Jared Burgess, explained, "Our personal training studio is different than the majority of fitness and exercise options, whereas we only offer private one-on-one training sessions in fully equipped training rooms. Every client is in a closed-off, private training room, fully equipped with all the equipment they need for the most advanced exercise routines, and it is only them and their trainer. They have access to their own sound systems and playlists. And of course, this leads to a much higher degree of an effective training session along with added protection from the pandemic. UST Personal Training is an appointment only, premier private personal training facility in South Tampa. There are many options for personal training, but none compare to what we can offer you."
Experienced Trainers That Keep You Motivated
UST Personal Training has been in business since 2006. This is their profession, passion, and life. This is what they do best. UST Trainers are continuously educating themselves with all of the latest methods and science of physical fitness. They have dedicated themselves to helping a very satisfied and diversified client base in achieving their personal goals. UST Personal Training can help you do the same. They want you to succeed, and they build a trusting relationship with you from the beginning to keep you motivated and accountable while treating you with unmatched care.
Private Training
Personal training is not the same as "Private" Personal Training. UST Personal training has three private workout rooms, each fully equipped with its own set of equipment to meet any type of workout needs. It is just you and your trainer with no interruptions, and no working out around others. This set up is ideal for anyone who is intimidated by the typical gym experience and for anyone who wants to focus and get their workout done efficiently and effectively. In our current state of affairs, our clients love the privacy even more so, as no one wants to be subjected to crowded gyms for health reasons during their workouts.
Customized workouts tailored to your specific needs and goals
UST Personal training is not a one size fits all operation. They customize workouts based on your personal goals and abilities. Based on your goals, they have the ability to use a wide variety of training methods, including suspension training, cross-training, strength training, Pilates, core training, boot camp, and cardiovascular training. They have trained clients with experience levels ranging from those who are just getting off the couch or are recovering from an injury to the weekend warrior, all the way up to the elite professional athlete. So no matter where you are in your physical journey, UST Personal Training can help you. They want to help you.
Safe & Clean Environment
You won't find a cleaner or safer place to work out. UST Personal training values your personal health and safety now more than ever. By having three separate private workout rooms, they can deliver on that promise on a level that other workout facilities simply cannot. In addition to the inherent social distancing that exists with their facilities, they sanitize the equipment after each and every client, you are only in the presence of your personal trainer, all trainers wear masks during sessions, and hand sanitizer is provided in every training area! So at UST you can work out with confidence that your health and safety will not be compromised.
Efficient Training That's Economical
We all live busy lives, and sometimes finding time to fit in your training session can be the most challenging task of all. At UST, sessions start at 30 minutes and are more effective than training for an hour on your own. With all of the equipment in one well-organized area, no sharing of equipment, and no unnecessary distractions, your time is maximized to get the best results in a timely manner. You are never pressured here to purchase large packages of training sessions and no membership fees. UST bills clients monthly based only on the number of sessions you plan to complete. They are here to help you, not push you into large bills you are unsure of.
According to U.S. News & World Report, within a few short weeks, about 80% of people fail to keep their New Year's Resolution commitments. Don't be the statistic. Let UST Personal Training change the way you work out, the way you think about health and fitness, and the way you CAN accomplish your goals!
To find out more information about UST personal training visit www.ustpersonaltraining.com
Private | Personal | Expert Trainers | Optimal Outcomes
UST Personal Training
3110 W Azeele St, Tampa, FL 33609
(813) 922-8144
USTPersonalTraining@gmail.com
ustpersonaltraining.com