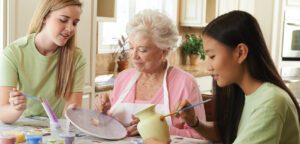 For some Gulfside Hospice volunteers, it's about repaying the kindness and compassion shown to them during their own hospice experience. But for all of the volunteers, it's about helping others while adding something meaningful and rewarding to their own lives.
Debbie, Gulfside Hospice volunteer, says "I was part of the hospice experience with both my mother and more recently, my husband. I was so touched by the care and amazing kindness they both received as patients that I have been driven to give back. I feel blessed to have the opportunity to do so as a volunteer."
Volunteering doesn't just impact others.
It's good for you, too.
Giving back b volunteering is not just good for those served by non-profit organizations – it's also beneficial for the giver too! Studies show there are many wonderful health benefits associated with giving, including:
• Longer life
• Greater happiness
• Lower blood pressure
• Less depression
• Reduced stress levels
• Higher self-esteem
According to one study, people who were 55 and older who volunteered for two or more organizations were 44 percent less likely to die over a five-year period than those who didn't volunteer. Another study looked at the functional MRIs of subjects who gave to various charities and found that giving stimulates the brain and releases endorphins, creating what is known as the "helper's high."
The Roles of a Gulfside Hospice Volunteer
Volunteers play an integral role on the Gulfside Hospice care team, providing care and compassion to more than 600 patients every day. From administrative support to sitting with patients, the dedication of the volunteers goes a long way to ensure patients and families are cared for and their needs are met.
For patients and families, hospice volunteers are there to provide an extra level of comfort, extra time of companionship, and another ear to listen to the heartfelt stories. For the care team, volunteers are an extra pair of hands in the kitchen, another smile to greet customers at the Thrift Shoppes, and extra visitor to check in and chat with patients.
Victoria, a Gulfside Hospice volunteer, says "The staff are so wonderful that it carries over to the patients and families. It makes the whole volunteer experience so meaningful and gratifying."
Sign up to volunteer, and start making a difference today!
The Gulfside Hospice volunteer department is always looking for new volunteers who want to make a difference in the lives of others and give back to their community. They work with anyone interested to find the best program or department that suits their abilities, skills and preferences. Volunteers can choose to support with patients and families in a variety of ways, or opt for opportunities outside of patient care that allow volunteers make a difference without working directly with patients.
Current volunteer opportunities at Gulfside include:
• Visiting patients to offer companionship
• Offering respite care to give caregivers a needed break
• Assisting patients with basic daily tasks, such as grocery shopping or errands
• Partnering with the We Honor Veterans program that connects veteran volunteers with veteran patients
• Singing, playing music, and assisting with art  projects with patients and families
• Making crafts, such as cards, blankets and other items to give to patients
• Providing administrative support, like answering phones, data entry and filing
• Assisting at the Gulfside Hospice Thrift Shoppes
Anyone interested in learning more about becoming a volunteer with Gulfside Hospice can contact the volunteer team at 727-845-5707 or visit www.Gulfside.org/volunteer-with-gulfside.