Many of us are more than thankful that it's 2021! With the New Year, many people are ready to make lasting changes.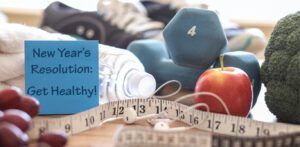 Exercise is essential for all ages, and it's not too late to get started.
Exercise Benefits
Exercising on a daily basis is best, but 3- 5 times per week is also favorable. Most people can benefit from taking a brisk 30-minute walk or a 30-minute swim. Exercise increases circulation, improves nutrient absorption, and oxygen-rich blood flow, helps build strength and can increase weight loss or maintain a healthy weight. If you can work out at the maximum level, it's incredibly beneficial for cardiovascular health and many other conditions.
Exercise improves circulation, lowers blood pressure, helps elevate mood, increase stability, protects (and regenerates) bone health, raises HDL and lowers LDL cholesterol levels, burns body fat, increases muscle strength, and much more.
JAMA published a study in 2018 that found that those who do not exercise have an increased risk of premature death, outweighing diabetes, cardiovascular disease, and even cancer-related conditions. In addition to all of the primary health benefits, regular cardiovascular exercise is also known to increase brain-derived neurotrophic factor (BDNF), a protein that protects the brain and improves cognitive function. You should always talk to your physician about the right exercise plan for you.
Enjoying Your Senior Years Comfortably
If you are a senior, you might also want to consider a change in your living arrangements. It's the perfect time to explore the possibilities of leaving the yard work and home maintenance behind. Discover the opportunities that Aston Gardens has to offer.
Aston Gardens is one of the most highly sought after communities due to their dedication to senior needs, their commitment to enriching the lives of each resident and their families by providing personalized care, welcoming living spaces, and superior amenities within three distinct tiers, which include independent living, assisted living, and memory care facilities.
Independent Living
Independent living focuses on being as active, healthy and independent as you want to be, but never alone. Choose from one of our independent living apartment homes, or a luxury for-sale villa and enjoy the all-inclusive carefree, maintenance-free lifestyle at America's award-winning senior living community.
Assisted Living
Assisted living offers residents a lifestyle of personal attention and help with activities of daily living, including bathing, grooming, dressing, taking medications and eating properly. Our focus is on health and wellness, helping residents to be as independent as possible with a personalized care plan that includes engaging social activities for a healthy body, enlightened mind and renewed spirit. With beautifully appointed assisted living suites, assisted living at The Inn is easy with the Aston Gardens One Price Personalized Plan. There are no confusing care levels to think about and our residents pay one low price for services.
SHINE® Memory Care
SHINE® Memory Care offers a private special needs neighborhood for residents with memory care related issues. Residents needing Alzheimer's care and other dementia care receive the very best attention and services in a supportive, compassionate and secure setting. Based on each individual's needs and capabilities, the professionals at Aston Gardens At Tampa Bay create a personalized plan to help our residents live life as fulfilling as possible, in a secure and comfortable environment.
The Difference
Want to know why so many people choose to live at Aston Gardens? It's the resort-style life, the caring staff, friendly community, and attention to detail that makes Aston Gardens surpass expectations.
Amenities
• Grande Ballroom
• Elegant Main Dining Room (5-Star)
• Private Dining Room
• Elegant Terraces and Outdoor Entertaining Spaces
• Heated Swimming Pool
• Lush Landscaping
• Senior-Equipped Fitness Center
• Library and Business Center
• Card and Game Rooms
• Activity Center
• Beauty Salon and Barber Shop
• Lounge
• Inviting Living Rooms and Common Areas Throughout
• Mail Room
• Concierge
• Full-Time Activities Director
• Themed Parties and Dances
• Educational Seminars
• Craft and Hobby Classes
• Card and Game Clubs
• Fitness and Wellness Programs
• Local Outings Around Town
• And so much more
ASTON GARDENS AT TAMPA BAY
Aston Gardens is a luxury senior living community offering the best combinations of active-adult lifestyles and personalized care services. Wake up inspired each morning with a wealth of amenities, activities, and support at your doorstep. Explore the stylish Grande Clubhouse and indulge in our unique lifestyle services: Sensations Dining, Celebrations Activities and Dimensions Wellness. Let our dedicated team members handle transportation, maintenance, housekeeping, concierge services and more. Here you will find compassionate people engaged in enriching the lives of seniors, ensuring their needs are taken care of every day. Aston Gardens At Tampa Bay offers the best value in affordable, carefree, senior living. Everything we do is focused on providing you the very best in senior living. It's all right here!
See why so many people want to call Aston Gardens their home!
Aston Gardens
Call 813-343-4673 today or visit astongardens.com