By Eric James, MD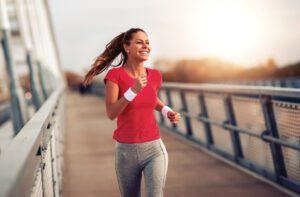 The start of a new year is always an exciting time. If you are considering making an improvement in your health goal for 2021, congratulations! Not only does exercise help us feel better, improve our cardiovascular fitness and help us maintain a healthy body weight, but it can also help with our orthopaedic health. Prevention of bone loss, improvement in muscle strength and improved coordination gained through exercise help ensure our bones and joints will support us when we need them!
Start Slowly
A new exercise program can be exciting but setting a reasonable schedule is important. If you take on too much, too soon, overuse injuries can occur. As you begin, aches and soreness are to be expected, but these should resolve within a couple of days. Adequate time to allow your muscles and joints to recover between workouts is important. As your fitness improves, the difficulty and frequency of your sessions can be increased. Keep in mind the importance of sleep as well to allow your body to recover.
Appropriate Shoewear
Well fitting, supportive shoes are important to avoiding injuries. A visit to your local running shoe store for a fitting can be very helpful. Generally, shoe fittings should be performed in the afternoon or evening when any foot or ankle swelling is at its greatest. Orthotics can be helpful for some people but seek assistance from your orthopaedic foot and ankle surgeon if you think you might need them.
Try it All
A well-rounded fitness program is key to achieving goals and avoiding injury. As you consider options in the new year, start with an activity that you find enjoyable. Maintaining interest will be much easier if you pick something fun for you. Involve your friends and family to help keep the positive changes going. Try multiple different activities so you can make improvements in your aerobic conditioning, flexibility and strength. We tend to think of the more common activities such as walking, biking, weightlifting and running but consider others such as swimming, rowing and yoga to add variety.
Make a Plan
Begin with a goal that will be attainable and make it a priority. Perhaps you start with 20-30 minutes of moderate activity 3 times -a week and work up from there. Some guidelines suggest 150-300 minutes per week of moderate intensity activity to achieve substantial health benefits. Put it on a calendar and track your progress. Seeing the fruits of your labor can be very rewarding and motivating!
Be Knowledgeable
If you are looking for more information or advice on getting started or have questions about orthopaedic health, check out these websites.
Eric James, MD is a board certified orthopaedic surgeon with fellowship training in foot and ankle surgery. He provides operative and non-operative care for patients with sports related, traumatic and degenerative conditions of the extremities, specializing in the foot and ankle.
If you have orthopaedic or sports medicine questions or concerns, call for an appointment, 813-877-6748. We have offices located in Lutz, Tampa and Riverview.
American Academy of Orthopaedic Surgeons, OrthoInfo
https://orthoinfo.aaos.org/en/staying-healthy/starting-an-exercise-program/
American Orthopaedic Foot and Ankle Surgeons, FootCareMD
https://footcaremd.org/foot-ankle-health/adult-feet
Best wishes for safe, happy and healthy 2021!
As always, remember to check with your physician prior to starting a new exercise program.
Bay Care Medical Group
BayCareMedicalGroup.org