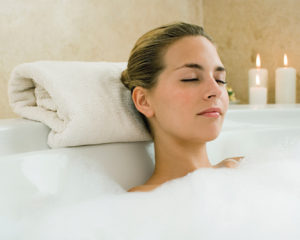 As families and communities come together in an effort to stay apart during these challenging times, many people feel a sentiment of confusion amidst their confinement.
"People are feeling lost due to the disruption in their normal routines," says Dr. Bryan Call, a chiropractor from Hood River, Oregon. "With social distancing in action and nonessential businesses being asked to close, some people are missing treatments and appointments that are central to their well-being. But here's the thing: in the spirit of minimizing disruption to our lives, there are 'little' things that can be done at home."
Dr. Call went on to comment, "The structure and positive habits established now can and will benefit us throughout our lives."
To help people transition to a happier "you" at home, here are 5 tips:
1. Make Time for What You Did at the Spa, Gym, or Physical Therapy
Set aside time each day, just as you would for an appointment. Stretch. Exercise. Meditate. Relax in a warm bath. Relieve your muscles with a calming lotion.
2. Pamper at Home
Enjoy the same benefits of a professional beauty treatment, at home. Create your own selection of products or try CBD Healthcare Company's best-selling rejuvenating body treatment bundle for a morning and evening regimen that's easy to follow. The pack includes Anti-Aging Concentrate Serum, Moisture Recovery Cream and Hydra Renewal Night Cream.
3. Muscle Relief and/or Massage
Use of the right soothing products can make up for any lack of professional expertise. Herbal CBD Muscle Relief Lotion and Natural Relief Salve calm and soothe sore muscles, targeting connective tissues and joints. For massage at home, try products preferred by spas and therapists nationwide. CBD Healthcare Company's Balancing CBD Massage & Body Oil and Luxurious CBD Massage & Body Cream blend natural massage oils with the benefits of CBD and botanical extracts.
4. What's on Your Plate?
Be mindful of what, when and how you eat. Make nutritious choices, eat regularly and avoid multitasking during mealtime.
5. Stay Connected
As effort is made to maintain contact with family and friends digitally, you can also maintain virtual contact with healthcare providers, therapists and doctors. Ask your providers if telehealth is an option. On a virtual visit, you'll wait in the safest place possible—your home. How convenient is that?
CBD Healthcare Company was launched as one of the CBD industry's most comprehensive lines of massage, muscle relief and skincare products for spa, wellness, therapeutic and chiropractic professionals, as well as being available direct to consumers at: www.cbdhealthcarecompany.com. Developed by wellness experts in Tampa, Florida, CBD Healthcare Company has established a reputation as the source you can trust for responsible ingredients, rigorous testing, effective concentrations of CBD and transparent test results.
For more information, visit: CBDHealthcareCompany.com Use Promo Code Relief at checkout for a 20% discount on your order
Statements have not been evaluated by the Food and Drug Administration. CBD Healthcare Company products are not intended to diagnose, treat, cure or prevent any disease.