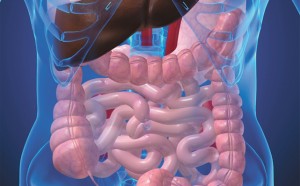 Really, a clean colon, why is that so important for good health?  Why is the colon one of the most prominent places cancers begins to grow? March was colon cancer awareness month. Continuing the awareness of this preventable disease, I want to do my part by giving a few healthy tips to help you avoid this life threatening disease. Start by making good food choices. Organic vegetables, low glycemic fruits high in fiber, leafy greens and root veggies. Change to olive and coconut oils, unrefined and organic.
The colon is something no one wants to talk about. When it is not cleansed, there is constipation, bloating, gas, burping and sometimes an old fashion stomach ache. You may have that all over feeling of "I just don't feel good, but nothing really hurts." From time to time, everyone may experience some of these symptoms, but what can we do to prevent these from ever happening?
So What Are The Tell-Tale Warning Signs Advising Us About Our Colon And Digestive Issues – And How Did Our System Get That Way In The First Place?
Let's think about. You may say I eat my fruits and veggies, I walk, I drink lots of fluids so why do I feel sluggish and bloated and some days, just can't go. Over the years our insides get full of processed foods, anti-biotics, bacteria and yeast, fermented foods that just attach to our intestinal wall. We take over the counter laxatives, stool softeners, eat fiber bars, but nothing helps. Unless there is thorough and complete elimination, the intestinal walls just continue getting thicker, holding in toxins and making the digestive tract smaller in diameter making it less likely to do its job and there is where the trouble begins.
With my background experience in Bio-identical Hormone Therapy for some 3 years, along with owning my own wellness company for 2 years, which specialized in "Nutritional Health & Natural Wellness" in Nashville/Brentwood TN, I am a woman that over the years has seen the ever broadening ill effects of declining health among Americans. Why? There are so many factors, some of which include fast foods, microwave foods, far too many pharmaceuticals, among numerous diet and health issues, and perhaps most concerning, a generation of obese parents, that are now raising a current generation of obese children, that may die even before their parents.
As a result I became passionate about learning how to improve the quality and selection of what I eat and natural supplements I take, not only for myself and husband, but for family, my children and now my grandchildren. I started reading lots of books on nutrition and the relationship of food and the body. I studied the detrimental effects gluten, cow dairy and soy had on our bodies. I applied my newly attained knowledge to my eating habits and began to have more energy and look younger.
A nutritionist introduced me to a proprietary blended, bio-stabilizing, detox herbal tea, and I loved what it did for me, and I knew what it could do for others. I, along with a partner, formed a company to get this wonderful healthy tea formulation out to as many people as possible across the country. I truly believed in the positive effects it had on my colon and digestive track, so I began going door to door to all natural practitioners and left them samples. They too began to see positive results in their patients because at last, they were getting relief from so many digestive, skin and joint pain maladies.
Powerful, Medicinal/SuperHerbs Provide Relief
The tea is composed of 5 powerful herbs that are known as Medicinal-SuperHerbs. This product was developed over 30 years ago and has continued to provide innumerable health and wellness benefits along with providing amazing relief from irregularity and even chronic constipation. It aids in any weight loss program, helps with allergies, Diverticulosis, Crohn's Disease, IBS, Gout, acid reflux and so many more. The bottom line, it helps the body rid itself of all the bacteria and yeast and cleanses out the digestive tract that is keeping you from feeling your best. And it is so gentle you drink it every day. It is called LifeSourceHerbal Tea. Check out the website BELOW. If you want to feel young and energetic again, you have to try it. So eat lots of colorful veggies, fibrous fruits, and walk 20 minutes a day, drink lots of filtered water and most importantly "Drink This Tea". Believe me, your colon will thank you.
LifeSourceHerbal Tea is available OnLine at www.LifeSourceHerblaTea.com right now, and may be Ordered in a Box of 12 Tea Bags-A 6 week Supply, or New Convenient Capsule, also in a 6 Week Supply.