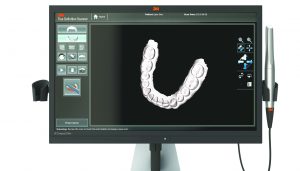 If you've ever needed a crown (cap), bridge, implant, braces, or dental appliance you have experienced the dreaded impression.  You know the feeling of sitting in the dental chair, head tilted back and the goopy material fills the overly large impression tray that is inserted into your mouth, stretching out your lips and oozing down the back of your throat.  You sit there trying to control your gag reflex, as the minutes seem to turn into eternity before they remove the tray and say, "I might need to take another one.  This one is not showing enough of the gum tissue that I needed."
Let's be honest, no one likes getting dental impressions, but there is good news!  New high-tech advancements have been made and are incredibly consistent in producing the highest quality replica of your teeth and gums by utilizing a scanning system.
The dental scanner is a digital dental impression unit that is a smart investment for dental offices to provide increased patient comfort level as well as increased impression accuracy.
How does it work?
It's similar to an intraoral camera that dentists use to take pictures of your teeth but operates using a laser scanner that directly records your teeth, their surfaces, the gum and soft tissue borders, as well as intricate measuring capabilities to provide the best outcome for your restorations.  The images are recorded on the screen and saved to a file that can be uploaded directly to the dental lab where your bite-guard, retainer, inlay or crown can be fabricated.  This allows a shorter waiting period for your permanent restoration or aligner and alleviates the possibility of any issues taking place with mailing your impressions or stone models.
The technician or dentist will place the laser into your mouth and record the four different quadrants in small units.  Although the process is detailed, it usually takes under usually a few minutes to complete.  It's totally pain-free and best of all; you will not have any impression material choking you.  Additionally, you will eliminate the opportunity for any operator error.
The Laurel Manor Dental Difference
Laurel Manor Dental always puts their patients first.  That is precisely why they have selected in the digital impression scanner specifically for your convenience and to be a more eco-friendly office.  Along with this contribution, they have also added a highly-regarded dentist to their team.
Dr. Christopher Williams is a native of the sunshine state. He graduated from the University of Florida at Gainesville with a Major in Biology and a Minor in Human Nutrition before pursuing his dental education at the University of Florida College of Dentistry.
While in the College of Dentistry, Dr. Williams gained valuable experience in externships focusing on Orthodontics and Periodontics. Upon receiving his Doctorate of Medical Dentistry, he received the UFCD Professional and Clinical Excellence Award. After graduation, he completed an Advanced Education in General Dentistry Certificate program at the University of North Carolina College of Dentistry in Chapel Hill.
Dr. Christopher Williams has always been dedicated to giving back. Whether it was volunteering for hurricane cleanup as a youngster in West Palm Beach, organizing oral health programs at local schools, or providing free care to underserved patients in Guatemala, he is committed to using his skills to help others.
If you or someone you love is in need of a dental consultation for other general dental needs or concerns, please call Laurel Manor Dental at (352) 430-1710, or visit laurelmanordental.com.