By Virginia 'Ginya' Carnahan, APR, CPRC – PRprn, inc.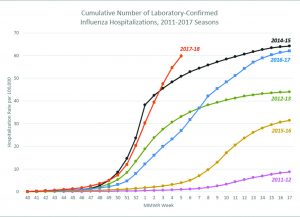 This year's flu "epidemic" is inspiring headlines across the nation, many debating the value of the "flu shot."  Nevertheless, the most recent Centers for Disease Control and Prevention "FluView" update (February 9, 2018) reports that this year's flu statistics confirm that this season is one of the worst since the CDC began keeping flu hospitalizations and death records (2010). The graph you see here is the Cumulative Number of Laboratory-confirmed Influenza Hospitalizations, 2001-2017.
These are flu cases severe enough to require hospitalization. There are countless (and uncounted) additional thousands of flu-sufferers at home, being treated with anti-viral drugs or over-the-counter medications. This season of flu is expected to continue 1-3 months.
An internet "Flu Map" shows virtually every state in contiguous country (with the exception of Oregon) reporting widespread flu cases.  In Oregon there is flu, but only in regional areas.  Maybe that has to do with Oregon's regional population?
Influenza is "a highly contagious viral infection of the respiratory passages causing fever, severe aching, and catarrh (inflammation of the mucous membranes), and often occurring in epidemics."  While all states are reporting flu as a major health issue during the first months of 2018, there are no hard-and-fast reports on the number of deaths caused by flu.  CDC does say that 1 in 10 deaths in the U.S. now are attributed to flu, and that as early as February, 65 infants and children had succumbed to the flu.
What about the Flu Vaccine?
This year's vaccine is thought to be between 35-50% effective.  Not 100% but better than nothing.  Even if you have not had a vaccine earlier, it could still help to have one now.  The reason vaccines are not more effective is that they are created months in advance of the spread of flu.  Epidemiology researchers attempt to predict which strain (or strains) of flu are likely to affect populations in the future.  There are infinite varieties of flu possible as the viruses mutate from season to season.  Again, a little protection is better than none.  A vaccine may not totally prevent the flu but most likely it will cause its strength and duration to be less.  The vaccine is most important for the elderly and their caregivers, as compromised immune systems in frail, older individuals provide a ripe environment for invasion by flu and other deadly infections.
How do you know if you have flu?
The symptoms include cough, high fever, body aches and nasal congestion. Perhaps someone in your home, office, church, or gym has come down with flu – now you feel sick.  Bingo!
What should you do?
The best advice – if possible – is to stay home, force fluids, take analgesics (aspirin), rest and not share your bug (flu or not-flu) with others around you.  If you must go to work, wear a mask!  If you develop severe respiratory symptoms (shortness of breath, rapid heartbeat, dizziness) go see a doctor immediately.  You could benefit from an anti-viral injection (Tamiflu® most effective within 48 hours of contracting flu). Don't wait until it is serious or you could land in the hospital, or worse.
How can I prevent the flu?
Stay away from sick people.  Stay away from big crowds of people.  Learn what to do to disinfect your environment.  One website suggests there are 7 common "germy" areas that people rarely disinfect:
• Faucet handles – wipe down daily with disinfectant swabs
• Toothbrushes – drop them in the dishwasher every few days
• Plastic toys – spray and/or wash with disinfectant liquid
• Touch screens – especially those shared withothers; follow manufacturer's advice
• TV remotes – dislodge crumbs with a toothbrush; spray lightly with disinfectant and dry with a cotton swab
• Desks – surfaces can harbor germs for hours; swab with the disinfectant wipe as often as possible
• Hands – perhaps the most direct route of germ transmission is through the hands.  Wash them frequently with hot water and soap.  How long?
I learned years ago – pre-flu – that one should sing  the Happy Birthday song (not necessarily out loud!) at least one time while soaping, rubbing and washing hands.  This should do the trick.
What are businesses doing to counteract the flu?  Perhaps the best thing a business can do is to have a liberal sick leave policy for its employees.  When one person in the workforce contracts the flu and brings it to work, the scene is set for disaster.  The flu can rapidly jump from person to person until the business may not be able to continue to function.  If the first infected person stays home, he greatly reduces the chance of spreading the flu.
One of the biggest challenges for our healthcare delivery system is the prevention of hospital acquired infections (HAIs), including flu.  It is estimated that the five most common hospital acquired infections cost the U.S. $9.8 billion annually. Hospitals and extended care facilities invest millions each year in an attempt to stay ahead of the spread of infection from patient to patient (and staff).  They employ devices and people to rid their environment of germs. Million dollar robots now disinfect entire operating rooms, in the process leaving the rooms out-of-service for hours.  Scores of housekeeping staff scour patient rooms after each patient discharge to eliminate invisible germs from surfaces.  It is a never ending challenge of immense importance.  No one wants to come home from a hospital stay sicker than he was when he was admitted.  And there are worse consequences – not coming home at all!
One impressive disinfecting system from Switzerland has recently been introduced to the U.S. through a distributor in southwest Florida. BioSanitize USA (BSU) offers a scalable, affordable, portable disinfecting device that can eliminate pathogens and anti-
biotic resistant bacteria by using non-chemical agents in an aerosolized application.
The product, named "Automate aHP," is manufactured by Saniswiss, one of Europe's largest and most successful manufacturers of disinfection products.
This device has been successfully used throughout Europe, Asia, the United Kingdom and Canada for a number of years.  It is now being made available in the U.S.
Automate aHP is about the size of a cannister vacuum cleaner and can be rolled into an evacuated hospital patient room.  A solution of boosted hydrogen peroxide is aerosolized by starting the machine. The door to the room is closed for approximately 5 minutes while the solution is introduced into the room, coating every surface – top to bottom – where bacteria exist and persist, leaving no trace or odor.  The device is then removed and taken to the next room while the original room "processes."  Thirty minutes later the first room is safely ready for a new patient.
Tayfun "Sonny" Taylor, CEO of BioSanitize USA says that applications for use of "Automate aHP" extend far beyond the hospital environment.  They include ambulances, physician offices, day-care centers, gyms, school buses, cruise ships and any place where many people gather and are likely to share their germs.
Two large international medical ambulance flight services have chosen the Automate aHP as their disinfectant device, as evidence of its effectiveness.
We can hope that one day we will be able to get a handle on flu and its transmission. In the meantime, we will look to companies like BSU to "push the envelope" in the ongoing challenge of protecting humans (and others) from infections, pathogens and germs of every description.
For additional information about BSU and Automate aHP, contact Mr. Taylor at 800-835-0820.