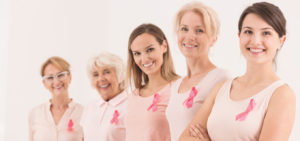 During October, we hear so much about breast cancer survivors, which is admirable, but it's important to note that it's not just about survivors, it's about the entire journey.
Breast cancer statistics remain high with both invasive and noninvasive diagnosis. 1.7 million women in the world are diagnosed with breast cancer each year. While we hear fewer statistics about men, they still can and do develop breast cancer, but at a much more infrequent rate.
With so much in the news at this time of year about breast cancer awareness, fundraisers, and considerable amounts of pink clothing everywhere we look, we sometimes forget what it's like to not just be a survivor but to suffer through the treatments.
Whether the cancer treatment entails surgery, chemotherapy, radiation treatments, reconstructive surgery, or alternative therapies, the bottom line is that these individuals are sick! They are not feeling well, and many times find it entirely overwhelming for function at all.
All About You Women's Boutique Helps Patients in Multiple Ways
The diagnosis of breast cancer can be the scariest time of a woman's life. At All About you Women's Boutique it is our passion and life purpose to provide a haven where women can come to feel beautiful again. We provide mastectomy, lumpectomy, lymphedema and numerous other items along with the finest care during this very difficult time.
One in seven women will be diagnosed with breast cancer. Here women have a lovely, comfortable place to deal the questions and situations that come as they rebuild a body and a life. These brave survivors are not alone; they are very dear to us. Our day is complete when a woman leaves the store standing tall, head held high and smiling because she looks the way she wants to again. It is our calling to help women with a compassionate hand, an understanding conversation, a hug, or a prayer when the world seems turned upside down by breast cancer. Come to All About You Women's Boutique where every woman is beautiful.
All About You Angels put on a cancer support group that comes together once a month and exists to help patients to exchange trials and tribulations through this trying time.
Please call Brittany at 352-572-2743 to learn more.
All About Your Women's Boutique
4901 E Silver Springs Blvd Suite 505
Ocala, FL 34470
352-236-2599
All About You Angels are a 501c3 that help under insured and non insured women afford products from the All About You Women's Boutique as well as other organizations. All About You Angels are a caring group of Survivors, Fighters and Family members coming together with the purpose of helping others touched by breast cancer.
All About You Women's Boutique visits The Villages and Gainesville once a month too!
Call us at 352-236-2599 to find out dates.