InterCommunity Cancer Centers and Institute Warns Patients about Skin Cancer Treatments Sold Online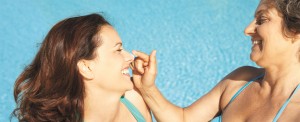 If you turn on your computer and search for "skin cancer treatments," chances are you will find countless ads for purported "natural" remedies for this disease. And while the ads may be appealing because of their unsubstantiated claims of helping you avoid "unsightly surgery," experts at InterCommunity Cancer Centers (ICCC) and Institute (ICCI) of Leesburg and Lady Lake are advising you to proceed with caution before purchasing and using these products because they may be detrimental to you or your loved one's health.
A recent study presented at the American Academy of Dermatology's annual meeting in Denver analyzed past cases in which patients searched the Internet for unsupervised do-it-yourself cures and found that many of these patients experienced scarring or extensive tissue damage. And for those afflicted with skin cancer, the unproven treatments led to worse results in terms of cancer recurrence or cure than routinely seen in standard medical practice.
"We are neck deep in the age of Internet-based medicine and unregulated medications," said Hal M. Jacobson, M.D., medical director of ICCC/ICCI. "As physicians, it is our ethical responsibility to educate our patients about the potential health hazards associated with purchasing these clinically unproven elixirs online."
According to the study's authors, the rapid rise of the Internet as a source for self-help medical information points to data suggesting the percentage of American adults who search the Web for health-related topics rose from between 40 percent and 50 percent at the turn of the century to 72 percent by 2012. In fact, more than 40 percent of people search on sites that discuss complementary and alternative medicine for mole removal and skin cancer concerns.
The risk is a dangerous one because the alternative-medicine sources found online often heavily promote questionable but commercially available treatments such as black salves, which contain potentially inflammatory ingredients like bloodroot and zinc chloride that burn the skin. If used inappropriately and without proper medical supervision, such products raise the risk for patients of developing significant pain and scarring, the researchers added.
The study found that these treatments provided poor cosmetic results in nearly 89 percent of cases and mild to moderate scarring occurred among almost 57 percent of the patients. The other 43 percent – mostly skin cancer patients – experienced major tissue damage and over 56 percent of the skin cancer patients still had cancer following self-treatment or saw their disease reappear.
Approximately 39 percent of those with basal cell carcinoma were fully cured by self-treatment as compared to the nearly 95 percent cure rate seen when patients are treated with standard medical practice and guidance, the researchers said.
And while more research is needed, ICCC/ICCI still believes that an ounce of prevention is worth a pound of cure.
"Unfortunately, these ads often prey on patients who are frightened by their skin cancer diagnosis. However, before deciding on self-treating your disease, ask your physician about these products as well as your treatment options. You will be happy to find that your physician's solution is a safer and more effective one," explained Dr. Jacobson.
The ACS' website identifies numerous signs and symptoms and important prevention tips regarding skin cancer including the following:
WHAT ARE THE SIGNS AND SYMPTOMS
OF SKIN CANCER?
Skin cancer can be found early, and both doctors and patients play important roles in finding skin cancer. If you have any of the following symptoms, tell your doctor.
• Any change on your skin, especially in the size or color of a mole, growth, or spot, or a new growth (even if it has no color)
• Scaliness, oozing, bleeding, or change in the appearance of a bump or nodule
• The spread of pigmentation (color) beyond its border, such as dark coloring that spreads past the edge of a mole or mark
• A change in sensation, such as itchiness, tenderness, or pain
THE EXPERIENCE OF INTERCOMMUNITY CANCER CENTERS
ICCC has 25 years of cancer-fighting experience having treated over 10,000 patients. They are dedicated to empowering patients to have the confidence they need to change their lives. Radiation Oncologists Drs. Hal Jacobson, Herman Flink, Maureen Holasek and Alison Calkins bring exceptional expertise in treating breast, lung, prostate, gynecologic, skin and other cancers.
As part of a larger, nation-wide oncology group of physicians and specialists under Vantage Oncology, the oncologists at ICCC have access to aggregated clinical information and best practices from the treatment of more than 1,000 patients per day, enabling them to develop highly-effective and peer-collaborated treatments. This gives many of the centers that work with Vantage, including ICCC, the ability to offer university-quality treatment services in smaller and more rural areas. It gives local communities exceptional services closer to home and in a non-hospital setting. To learn more, please visit www.ICCCVantage.com.
ABOUT VANTAGE ONCOLOGY
Vantage Oncology offers a complete development, implementation and management solution for radiation oncology practices. It provides ownership opportunities that empower physicians to maintain control of their practice while leveraging the strength of the company's network and clinical resources. A multi-disciplinary team is committed to continuously raising the standards of cancer care. Vantage provides patients and their families with ultimate peace of mind through its commitment to clinical excellence and superior outcomes.
For more information, please visit www.VantageOncology.com.
CAN SKIN CANCER BE PREVENTED?
The best ways to lower the risk of non-melanoma skin cancer are to avoid long exposure to intense sunlight and practice sun safety. You can still exercise and enjoy the outdoors while using sun safety at the same time. Here are some ways to be sun safe:
• Avoid the sun between 10 a.m. and 4 p.m.
• Seek shade: Look for shade, especially in the middle of the day when the sun's rays are strongest. Practice the shadow rule and teach it to children. If your shadow is shorter than you, the sun's rays are at their strongest.
• Slip on a shirt: Cover up with protective clothing to guard as much skin as possible when you are out in the sun. Choose comfortable clothes made of tightly woven fabrics that you cannot see through when held up to a light.
• Slop on sunscreen: Use sunscreen and lip balm with a sun protection factor (SPF) of 15 or higher. Apply a generous amount of sunscreen (about a palmful) and reapply every 2 hours and after swimming, toweling dry, or sweating. Use sunscreen even on hazy or overcast days.
• Slap on a hat: Cover your head with a wide-brimmed hat, shading your face, ears, and neck. If you choose a baseball cap, remember to protect your ears and neck with sunscreen.
• Wrap on sunglasses: Wear sunglasses with 99% to 100% UV absorption to provide optimal protection for the eyes and the surrounding skin.
• Follow these practices to protect your skin even on cloudy or overcast days. UV rays travel
through clouds.
• Avoid other sources of UV light. Tanning beds and sun lamps are dangerous. They also damage your skin in other ways.