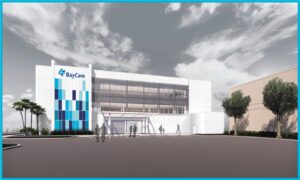 BayCare Health System is bringing a new health model called BayCare HealthHub in South Tampa. This concept, designed to make life better for residents in South Tampa community, will open on Nov. 2.
The BayCare HealthHub (South Tampa) is a new model of care, which provides services in a new way – one that is focused on providing high quality care with an enhanced patient experience.
"We created the HealthHub with the idea of bringing to life BayCare's mission to improve the health of all we serve through high-quality, compassionate care," said Jim Cote, senior vice president  for ambulatory services. "We're hoping to accomplish that goal through this unique concept in South Tampa."
Inside the HealthHub, located at 711 S. Dale Mabry Hwy, Tampa, FL 33609, BayCare incorporates convenient access to multiple health care services under one location.
The 25,000-square-foot facility will integrate multiple health care services such as primary and pediatric care, physical therapy, imaging, laboratories and sports medicine to provide convenient access to high quality care for patients and their families.
The integration of multiple health care services for children and adults under one location help make life easier for residents and their families with busy schedules.
For more information, visit BayCareHealthHubSouthTampa.org.