POLK COUNTY, Fla., (Feb. 4, 2021) – Winter Haven Hospital's Bostick Heart Center has added a surgeon to its nationally recognized team.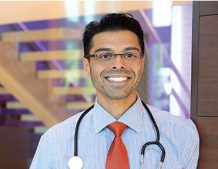 Dr. Safi Haq, MD, is now seeing patients at the hospital. He specializes in cardiothoracic surgery, which involves surgical treatment of issues involving the heart and lungs.
As a youth, Dr. Haq found himself interested in surgery, but on more low-risk patients.
"I was always taking my teddy bears and toys apart at home and playing the surgeon," he said.
He received his undergraduate degree in biochemistry and molecular biology from Boston University College of Arts and Sciences, then earned his Doctor of Medicine from the American University of Antigua College of Medicine in Antigua and Barbuda, West Indies. After that, Dr. Haq continued his medical education by completing a general surgery internship, residency, and chief resident year at Northeast Ohio Medical University/Western Reserve Health Education in Youngstown, Ohio. He went on to complete a fellowship in cardiothoracic surgery at the University of Miami/Jackson Health System in Miami.
During his fellowship, Dr. Haq earned one of 25 spots of the American Association of Thoracic Surgery's Surgical Robotics Fellowship. He received hands-on experience in robotic surgery at the Intuitive Surgical headquarters in Atlanta, where he learned more about minimally invasive/robotic approaches to both cardiac and thoracic surgical procedures.
His areas of focus include the treatment of all aspects of cardiovascular disease, valvular heart disease including complex mitral repair, disease of the great vessels of the heart, and lung cancer.
Dr. Haq joins BayCare Medical Group surgeons David Evans, M.D. and David Dodd, M.D. and electrophysiologists Rodrigo Bolanos, M.D. and Javier Acevedo, M.D. at the Bostick Heart Clinic.. The clinic is located on the third floor of the Bostick building and will provide outpatient care services for patients being evaluated or scheduled for cardiovascular surgery, electrophysiology, and any treatment options offered through our new Structural Heart and Valve program.
About BayCare Medical Group
BayCare Medical Group is the largest multi-specialty physician group in the greater Tampa Bay area, with more than 500 providers and 40 specialties. In 2014, HealthPoint Medical Group, Morton Plant Mease Primary Care and Specialists, St. Anthony's Primary Care and Specialists and Suncoast Medical Clinic formed to become BayCare Medical Group. In 2016, Winter Haven Hospital's Family Health Centers and employed physician specialists, as well as Bartow Regional Medical Center's employed physicians joined BayCare Medical Group. For more information, visit www.BayCareMedicalGroup.org
About BayCare Health System
BayCare is a leading not-for-profit health care system that connects individuals and families to a wide range of services at 15 hospitals and hundreds of other convenient locations throughout the Tampa Bay and west central Florida regions. Inpatient and outpatient services include acute care, primary care, imaging, laboratory, behavioral health, home care, and wellness. Our mission is to improve the health of all we serve through community-owned health care services that set the standard for high-quality, compassionate care. For more information, visit www.BayCare.org