The Elite Option For Your Loved One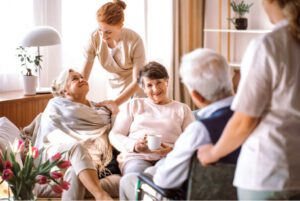 Savannah Court of Lake Wales and Haines City have been designed with the senior living experience in mind and recognizes every person is unique in their needs and desires. Life at Savannah Court is truly what assisted living should be.
Their goal is to offer a full spectrum of services that will identify and address every requirement – while promoting and maintaining the resident's independence and dignity.
An experienced team of caregivers provides support and care as needed. Savannah Court residents have great continuity of care as the team is equipped to allow residents to age in place in their private apartment.
Assisted living is often the best choice for the family and loved ones of someone in need of long term care. Savannah Court of Lake Wales and Haines City offers round the clock care, compassion, and guidance for families. The staff is trained and understands that the process of the transition to assisted living is not always an easy one.
Why Should You Choose Assisted Living For Your loved one?
It is often essential to make a decision to transition a loved one into an assisted living, but it can be overwhelming to make the choice. Scheduling a tour of the community is critical. It's important to see and understand the process first-hand. With a personal tour you can expect all questions and concerns addressed, a private tour of the community with your loved ones needs as a priority, a review of finances and information on assistance – if needed.
Not all communities are equal. In fact, Savannah Court stands out amongst the majority because of their detailed care, expertise, and loving environment that feels like HOME.
Residents remain as independent as possible with the peace of mind that support is steps and minutes away.
Assisted living at Savannah Court of Lake Wales and Haines City are both individualized and provide residential private apartments with support and care close at hand. Savannah Court offers support and personalized lifestyle while encouraging privacy and independence.
At Savannah Court life is resident centered.
At Savannah Court of Lake Wales and Haines City, life is resident-centered because they know that no two resident's needs are the same. The associates at Savannah Court provide support based on individual resident needs. Our small communities (capacity at 45) provide a loving environment that foster one on one relationships and a true family environment.
Residents in our community have the benefits of a full support staff, chef, activities program, housekeeping, maintenance, access to a nurse, assistance with personal care and daily activities. These daily activities may include bathing, dressing, medication management, personal hygiene, and eating. Transportation, laundry and housekeeping services are also provided. These perks help residents to feel well cared for, and to also maintain a sense of independence.
Savannah Court's Assisted Living
Savannah Court team members deliver service with a smile. The staff and associates have a hospitality mindset when serving residents. Experienced, trusted associates form bonds and trusted relationships with residents, truly making Savannah Court communities home for our residents.
Savannah Senior Living Communities – Offering You so MUCH more
Recently awarded the "Pinnacle Award" and "The Best of 2021," The Savannah family of retirement living communities offers an exceptional array of retirement options for Florida residents and their loved ones. Our unique communities stretch across the state, including eleven Savanah Court Assisted Living Support Residences, two Savannah Grand Residences, several Savannah Cottage Memory Support Residences and two Savannah Cove locations specializing in rehabilitation and skilled nursing.
Enjoy the finest in assisted living accommodations at Savannah Grand and Savannah Court Assisted Living Residences. Each of our communities offers residents several choices in floorplans, tastefully decorated common areas and immaculately maintained grounds. Our signature service program provides supervision, personal care and many other services designed to provide a fulfilling lifestyle for seniors. We specialize in independent, assisted living, and memory care communities.
Residents are escorted out for shopping, dining, and sightseeing on a regular basis. It's truly the best lifestyle!
All of our communities offer different amenities, lifestyle choices, healthcare and programs. Below is a snapshot to paint the picture more clearly of what one of senior communities is like and why so many residents love to call our communities "Home."
If you decide to make Savannah Court your Home or Home for Your loved one, They are offering a limited time promotion:
$1,000 off of the community fee with the mention of this article.
Please contact Savannah Court at ( 863) 215-8018 or visit www.SLM.net