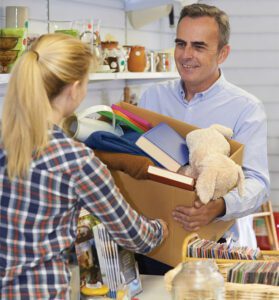 Each year, National Thrift Shop Day is celebrated on August 17. It's a day for consumers to shop small, find great bargains, and support their local business and a great cause. Almost every town has a second hand shop, thrift store or consignment shop. Almost always, those stores are supporting a great cause.
The benefits of shopping at a thrift shop go beyond getting a great bargain, even though that's a great reason to spend the day thrifting for a hidden treasure. Typically, items for sale in the thrift shops are donated by customers who are cleaning out their closets, downsizing, moving, or just looking to declutter their homes. It's said one man's trash is another man's treasure, that rings true in the world of thrifting.
If you're looking for something unique to fill that certain spot in your home, visit a thrift shop. If you're looking for evening attire for that one fancy event, but don't want to spend a fortune on something you'll wear once, visit a thrift shop. If you're a records collector, visit a thrift shop. If you like to hunt for antiques, visit a thrift shop. The list goes on and on, and so does the variety of what can be found if you're shopping in a thrift shop.
"We make a living by what we get, but we make a life by what we give." – Winston Churchill
One way that non-profit thrift shops help raise money for their cause is thanks to the work of volunteers. Thanks to the time and effort given by them, the cost of running the shops is much lower, meaning that more of the proceeds from sales can go directly to the charity it supports.
The volunteers who give their time at the shops often feel they get back so much more in return. Especially for senior volunteers, they have a place to go where they can meet new people, make new friends, and stay active, leading to healthier lives.
According to Mary, a volunteer at the Gulfside Hospice Thrift Shoppe in Dade City, giving back is a rewarding experience that has kept her with the shop for more than a decade. "I came to Gulfside 12 years ago because it is a good cause, helping people in their final days of life. Also, it's an excellent organization, it has great people and it's very rewarding!"
Supporting a non-profit thrift store means the whole community benefits.
Whether it's shopping the inventory, donating unwanted items, or giving back by volunteering, supporting the non-profit thrift shops of local community allows them to continue giving back to those in need, whatever the cause.
At the Gulfside Hospice Thrift Shoppes, all proceeds from their five locations go directly to supporting patient care, specialized programs and bereavement services for families, which are offered free of charge to anyone in the community. This is made possible by the Thrift Shoppes.
For example, when a volunteer works a four-hour shift at the Gulfside Hospice Thrift Shoppes, the money saved by their efforts equates to the cost of medical equipment for a hospice patient for 12 days. The smallest gift of time, treasure and talent can have a big impact on the care the organization provides.
About the Gulfside Hospice Thrift Shoppes
The proceeds from each of these stores directly support Gulfside Hospice, patient care costs and the operation of the Gulfside Centers for Hospice Care. There are five locations throughout Pasco County, located in Dade City, Hudson, Lutz, New Port Richey and Zephyrhills. Donations are accepted during store hours, and donation pick-up can be scheduled for large items by calling the nearest store.
Thanks to a constant flow of new donations, merchandise for sale at the Shoppes is always changing. All of the locations offer a large variety of new and gently used items, and some great one-of a kind treasures, antiques and collectibles. Items you can find in the Gulfside Hospice Thrift Shoppes include:
• Clothing and shoes for Women, Men, Teens & Children
• Furniture – couches, tables, and more
• Small Household Appliances
• Accessories, Name Brand Purses, & Jewelry
• Collectibles & Antiques
• And more!
The Gulfside Hospice Thrift Shoppes are run almost entirely by volunteers. They are a vital part of the stores' success, and new volunteers are always welcome. New volunteers receive an on-site orientation and training in the store of their choice. Roles of a volunteer include tasks like greeting and assisting customers, sorting and pricing items, organizing and displaying items on store shelves, and more.
To learn more about how you can shop, donate or volunteer at the Gulfside Hospice Thrift Shoppes, visit Gulfside.org/thrift-shoppes or call 800-561-4883. You can also follow the Shoppes on social media for sneak peeks at new inventory, sales, and more, at Facebook.com/GHThriftShoppes or on Instagram @gulfsidethriftshoppes.
Gulfside Hospice Thrift Shoppes
Gulfside.org/thrift-shoppes
800-561-4883