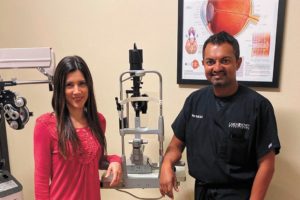 Most vision problems, like myopia (nearsightedness), hyperopia (farsightedness), astigmatism and presbyopia, which is a loss of near vision due to aging, are caused by an irregularly-shaped cornea and/or lens, which affect how the cornea focuses light. When either is asymmetrical, it can warp vision, creating blur, poor depth perception, light haloing and limited night vision. Most people choose to address these conditions with corrective lenses, either glasses or contacts, which work well to improve vision. But lenses come with restrictions, like fumbling to find your glasses, struggling in the dark, the discomfort and inconvenience of
inserting, removing and caring for contact lenses, restrictions in swimming and other sports, and preferring your appearance without glasses.
This has lots of people wondering about LASIK laser vision correction surgery. One such person was our very own Doctor of Optometry, Adria Anguita. "Since I was 9 years old, I have been dependent on contact lenses or eyeglasses for 20/20 vision," says Dr. Anguita. "One of my dreams for many years was to be able to wake up each morning and clearly see the clock next to me."
After consulting with Lake Eye's Dr. Vinay Gutti, who has performed thousands of successful refractive laser surgeries and is the region's first doctor to master iDesign, the most advanced LASIK surgery in the industry, Dr. Anguita decided it was time to finally achieve clear, crisp vision without dependence on glasses. "What is so special is that I knew I was in great hands with my colleague, Dr. Gutti," says Dr. Anguita. "LASIK is indeed life changing. It has definitely changed mine for the better!"
iDesign utilizes more than 1,200 data points in the eye to create a customized map of the tiniest imperfections in the cornea. "iDesign's unique mapping technology is 25 times more precise than standard eye-mapping techniques," says Dr. Gutti. "It is the gold standard in LASIK vision customization and correction."
For the vast majority of patients, iLASIK technology is able to improve close-up vision, distance vision, night vision and depth perception, all in just minutes. The technology is so safe and effective that it has been approved for use by NASA and the US military. Nearly all patients notice substantial vision correction the same day with continued improvement over time, and are able to return to normal activities the day after surgery.
"I'm gratified not only to help a colleague see and perform better than ever, but also to have someone here on staff with first-hand experience as an iLASIK patient so she can describe the procedure in detail to others who may be considering laser vision correction surgery."
Dr. Gutti performs iLASIK at Lake Eye's state-of-the-art surgical suite at the Tavares location, which is open and serving new and current patients using the most stringent safety protocols for a secure and rewarding experience.
If you're ready to live life beyond lenses, call Lake Eye today to schedule a free iLASIK consultation.
Lake Eye and Prescription Optics
352-775-1533
LakeEye.com