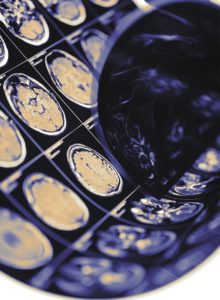 Movement disorders, including essential tremor, ataxia, Parkinson's disease and others can often be successfully treated, but each requires specific protocols in order to ease symptoms and help improve function. Because not all motion disorders respond to the same medication, knowing the specific cause is necessary to stage the appropriate therapy.
Parkinson's: A commonly misdiagnosed problem
Many people are misdiagnosed as having Parkinson's disease – in fact, a diagnosis of Parkinson's is estimated to be incorrect in about 20% of cases, or about one in five patients. This not only creates undue stress in misdiagnosed patients, it can also result in the administration of less effective or ineffective treatments. That's why the FDA-approved DaTscan is so important. This painless, noninvasive nuclear medicine imaging test can help your radiologist and neurologist differentiate Parkinson's disease from a comparatively minor problem like essential tremor and other motion disorders.
DaTscan produces intricate images that can reveal minute details in the brain other tests can miss. DaTscan utilizes a unique injectable radiotracer called Ioflupane I123, a sophisticated nuclear medicine that travels to the brain and illuminates the neurons that control movement. This focused radiotracer releases gamma rays that are captured by a specialized camera, allowing your radiologist and neurologist to examine details deep within the brain, including any deterioration of dopamine-containing neurons, a condition associated with specific motion disorders. In a clinical study, physicians reported that DaTscan results impacted their diagnoses of 68% of patients, and contributed to 58% of their clinical management of cases. Another huge benefit of DaTscan is that it can produce results in just hours instead of weeks or months, for less waiting and faster treatment.
MRI: Offering more views into neurological issues
When additional or alternative studies of the brain are needed, RAO offers advanced magnetic resonance imaging (MRI), a painless, radiation-free diagnostic scan that can delve into brain tissues to discover brain and neurological issues including injury, irregularities and diseases that can cause movement disorders, so that effective treatment can begin. MRI uses a large magnet and radiofrequencies to capture images of the brain, which are sent to a computer to produce comprehensive cross-sectional studies, all without the use of ionizing radiation.
Why RAO is the right choice
RAO's team of Board Certified neuroradiologists subspecialize in diagnosing diseases and disorders of the brain and central nervous system, and personally read all imaging results in-house so they can consult directly with your neurologist. RAO maintains ongoing accreditation from the American College of Radiology for high practice standards in accuracy, technology and safety, so you can rest assured you will receive the highest level of care.
RAO offers DaTscan at our Medical Imaging Center at Windsor Oaks. MRI is offered at our Medical Imaging Center at Windsor Oaks and our Medical Imaging Center – Magnolia Extension, and open MRI is offered at our TimberRidge Imaging Center.
When your neurologist has the right information about what's causing your motion disorder, they can determine the most effective treatment to help control symptoms and disease progression. If you have a motion disorder, talk to your neurologist about whether DaTscan or MRI from RAO might be the right option for you.
Radiology Associates of Ocala
(352) 671-4300
www.RAOcala.com