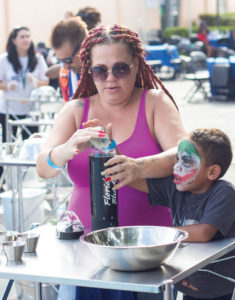 The pages of a cookbook don't just hold words, they hold a history of family meals. Passed down from generation to generation, the recipes within it dictate a sense of identity among family gatherings. As the words on the page transform into meals shared around a table, a feeling of community is born and a cookbook becomes a family heirloom. Unfortunately, the significance of the cookbook is lost on those who struggle to put a meal on the table.
For over 600,000 individuals in our community, a cookbook is simply a book. Putting food on the table – if there is any that day – is already a stressful feat. Children in local schools, single parents trying to provide for their family, seniors on a fixed income, and veterans who fought for our freedom are among the individuals who lack a consistent, steady food supply. In the Tampa Bay area, 1 in 7 adults and 1 in 4 children miss out on the daily camaraderie that comes with sharing a meal around a table.
Feeding Tampa Bay seeks to drive communities together by making food accessible to all. As the backbone of hunger relief and the largest food rescuer in West Central Florida, Feeding Tampa Bay collects excess food from retailers, farmers, and manufacturers, and redistributes it to those in need. For every $1 donated to Feeding Tampa Bay, 10 meals are provided. Our community becomes stronger when its members have access to the nutrients they need to live a healthy life. Feeding Tampa Bay hopes to make food plentiful for our hungry neighbors so that a cookbook becomes a beacon of hope and family tradition rather than just words on a page.
Fighting hunger is easier when we do it together.
We envision a hunger-free Tampa Bay by 2025, providing healthy and capability to our ten county region. Join us. https://hungerfree2025.com/