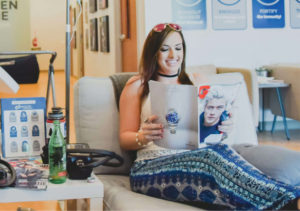 Take Ownership of Your Health
There is an incredible trend emerging, people are taking back control of their healthcare. Restore Carrollwood provides you with powerful services that will help you take ownership of your health, wellness, and recovery. Their services have the potential to help you perform at your best, address a deficiency, or provide relief from that chronic pain.
Launched in Austin, TX in 2015, Restore Hyper Wellness recently opened their 37th franchise in January. In 2019, they were ranked #113 on Inc. 5000, a list of the fastest-growing companies in the country. Opening in Carrollwood this month, Restore hopes to serve as your one-stop-shop for wellness and recovery. They have a very simple tagline illustrating how they want to help you. "Restore. Do More."
Their approach is this: enhance the body's natural ability to recovery. They offer numerous modalities which revolve around this principle. These include cryotherapy, IV drip therapy, hyperbaric oxygen therapy, infrared sauna, and photo biomodulation (red light therapy), among others.
This month, we're highlighting IV drip therapy.
IV Drips at Restore
Kick your feet up and relax, Restore is the "antithesis of a traditional doctor's office," according to their website. "We are efficient, fun and social. We educate and provide information in a completely transparent manner so that you can manage your wellness better. Every day, we help thousands of customers achieve their goals around sports performance, pain management, recovery, beauty and overall wellness."
When you get an IV drip at Restore, you can expect to relax on a sofa and have time to recharge while you're educated about what is going into your IV.
Restore offers IV drips which are custom-mixed based on each person's needs by a registered nurse. These ingredients range from vitamins like B12, vitamin C and biotin, to antioxidants such as glutathione.
A typical IV drip takes about forty minutes. During that time, one liter of fluid is delivered directly into your bloodstream. This is the equivalent to drinking about two gallons of water! It also means immediate relief for your dehydration and its symptoms.
How do I know what I need in an IV drip?
Every person who receives an IV drip has the opportunity to have a consultation with a nurse practitioner to ensure efficacy and safety for each person.
Restore also offers powerful micronutrient testing which provides a clear view of how your body has been absorbing and utilizing nutrients over the past thirty days. It is much more effective than a standard blood test, and helps the nurses at Restore create a mixture which will provide you maximum benefit and relief.
Why can't I just take a vitamin?
When you take vitamins orally, they are subjected to your digestive tract and are only absorbed at a rate of 10-20%. Delivered through an IV, they go directly into your bloodstream, meaning those vitamins are absorbed nearly 100%! This means that at Restore, you really know you're getting what your body needs.
What if I don't have time?
Some of Restore's ingredients are offered as shots and can be administered in seconds. These include, among others: B12 for a quick boost of energy, B12 with Lipo-C for energy and a metabolism boost, and BCAA's for muscle recovery. For a busy person, these are a great way to supplement in a pinch.
Begin your path to Hyper Wellness with Restore! To find out more, or to schedule an appointment, please call (813) 205-7049!
Hyper Wellness with Restore
13158 N. Dale Mabry Highway . Tampa, FL 33618 . restore.com . 813.205.7049