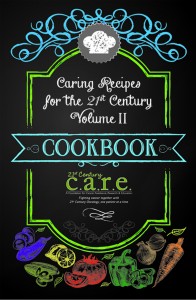 The nonprofit 21st Century C.A.R.E. foundation is proud to announce that cookbooks to benefit cancer patients are now available for purchase. Proceeds from the cookbook will be used to provide financial assistance to cancer patients in need.
The cookbook is titled "Caring Recipes for the 21st Century Volume II" and can be purchased at 21st Century Oncology's offices in Ocala or Beverly Hills, or online for $15. This is the second cookbook from the foundation, and this volume has all new recipes, illustrations, guides, and a recipe pocket to store your own recipes. The cookbooks are easy-to-read and professionally printed with a spiral bound.
"Our first cookbook was a great success so we are very excited to do this again to further help cancer patients in need," says Solomon Agin, D.D., Chairman of the Board & President of 21st Century C.A.R.E. "This is one way to help patients financially while providing delicious dishes doing it."
21st Century C.A.R.E. is a nonprofit charitable foundation dedicated to helping cancer patients through financial assistance, cancer education and cancer screenings.
Purchasing a cookbook is a great way for the residents of Marion and Citrus Counties to help their
neighbors in a practical way while also gaining some favorite homemade recipes.
21st Century C.A.R.E. is anticipating a great demand for this cookbook so be sure to order yours today by calling Helen Greene at (352) 615-5600 or visiting www.21stcenturycare.org/fundraising-cookbook.
For more information, visit: www.21stcenturycare.org
About the 21st Century C.A.R.E. Foundation:
Started in 1996, the mission of this nonprofit charitable foundation is to provide financial aid to cancer patients in need, and provide cancer education at the community level to patients, care providers and the general public.
Throughout the year, 21st Century C.A.R.E. visits communities across the country to conduct a number of cancer screening programs, including for skin, head and neck, colorectal and prostate cancers. 21st Century C.A.R.E. is well known for its financial assistance program that provides help for cancer patients through basic expenses like transportation to appointments, groceries, medical supplies, temporary housing and childcare. The foundation's belief is that by not having to worry about these necessities, cancer patients can concentrate on what is really important – beating their disease.