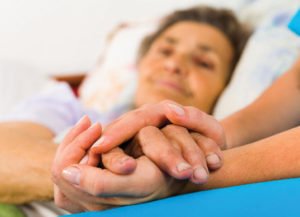 Everyone knows what hospice care is. Or do they? When it comes to hospice, there are several common misconceptions about hospice care, its benefits, services provided and more. Most people tend to think it's care for the dying, but those who have experienced it know it's actually about living.
Read on to learn the truth about common myths about hospice care.
MYTH: "Hospice is a place where you go when there is nothing more a doctor can do."
FACT: Hospice is a philosophy of care, not a place. While most hospice organizations have hospice houses or care centers, the majority of patients receive care at home. Hospice care is designed for patients with a life-limiting illness who have chosen not to seek a curative treatment. The focus is on living life to the fullest and enjoying time left spent with friends and family, and doing the things you've always loved. The hospice medical professionals are available to assist with pain management, wound care, medications, and so much more.
MYTH: "If I choose hospice care, I have to leave my home."
FACT: Hospice care is provided wherever the patient may reside: in their own home, in a family member's home, in a nursing home, or in an assisted living facility. Most hospice organizations have hospice houses or care centers, which are designed to help patients whose symptoms cannot be managed elsewhere or by a caregiver.
MYTH: "Families are not able to care for people with life-limiting illnesses."
FACT: Family members are encouraged, supported and trained by hospice professionals to care for their loved ones. Our staff is on call to the patient and their family 24 hours a day, 7 days a week, to help family and friends care for their loved ones.
MYTH: "Hospice care is only for cancer patients."
FACT: More than 60% of hospice patients have a diagnosis other than cancer. Dementia, heart disease and lung disease are also among common illnesses that can lead to needing hospice care. A patient is eligible to receive hospice care when they have received a diagnosis of six months or less to live from their primary care or other physician.
MYTH: "Hospice is just for the elderly."
FACT: Hospice is for anyone facing a life-limiting illness, regardless of age and stage of life.
MYTH: "To be eligible for hospice, I have to be in the final stages of dying."
FACT: Patients and families can receive hospice care once a diagnosis of 6 months or less has been given. Research has shown that patients who start receiving hospice care earlier will often live longer than that 6 months because the patient's quality of life has improved on hospice care. Hospice patients can receive care for an unlimited amount of time, depending on the course of the illness and as long as they are still meeting hospice criteria. There is no fixed amount of time that a patient may continue receiving hospice care, and often times patients even "graduate" from hospice care when their conditions improve.
MYTH: "All hospices are the same."
FACT: Each hospice is its own organization that provides end of life care to patients. Many hospices offer similar types of care, but most have programs that make them unique from one another. For example, Gulfside Hospice offers the We Honor Veterans program, Pet Peace of Mind® program, spiritual care and alternative therapies, and other unique services. Accreditations can also help hospice organizations stand out from the others.
MYTH: "All hospices are not-for-profit."
FACT: Not all hospices are not-for-profit. While the majority are, there are some hospice organizations that are for-profit, even here in the Tampa Bay area. To find out if a hospice is not-for-profit, check out their website or give them a call.
Gulfside Hospice – Serving Patients for 30 Years
Every day, more than 450 Pasco County residents receive hospice care from the team at Gulfside Hospice. They emphasize that hospice care is about more than just the patient – it's about the whole family. With an interdisciplinary approach to care and an array of services, Gulfside Hospice is able to help patients and families live their lives to the fullest.
Every person receiving care from Gulfside has access to the organization's whole team, which includes hospice-certified physicians, nurses, hospice aides, social workers, chaplains and volunteers. Some of the services provided by Gulfside's team include:
• Visits from physicians who offer pain management and symptom control
• Regular visits from registered nurses, plus the ability to contact the nursing team 24/7
• Coordination of medical supplies, medication and equipment like oxygen tanks, walkers, hospital beds and more
• Assistance with personal care provided by certified nursing assistants
• Services from social workers who specialize in helping families cope with issues surrounding life-limiting illnesses
• And so much more.
Gulfside is the only not-for-profit hospice that serves Pasco County exclusively, and was the first hospice in Pasco to receive The Joint Commission's Seal of Approval Accreditation. To learn more about how Gulfside can help you and your family, call (800) 561-4883 to speak with one of the organization's experts. For more information, visit Gulfside.org.
Gulfside Hospice
(800) 561-4883
Gulfside.org