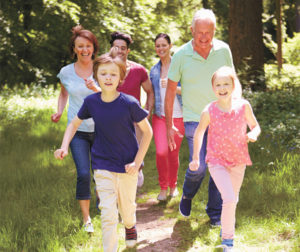 What if you were riding your bike along the path of your neighborhood and noticed that your eyesight was blurry, or that your arm felt weak? Would you seek help? What if you were having coffee with your friend and you noticed that her speech was slurred? Would you call 911? The number of individuals that ignore the signs of stroke is alarming. If a stroke is caught fast enough, medical treatment can prevent permanent and debilitating damage and death.
Signs and Symptoms
Adding to the original FAST acronym, BE FAST adds two additional stroke symptoms, which help individuals recognize and prevent 95 percent of acute strokes.
B – Balance loss
E – Eyesight changes
F – Face drooping
A – Arm weakness
S – Speech difficulty
T – Time to call 911
Staying Healthy and Avoiding Stroke Complications
• Keep weight down
• Workout (30 minutes of cardiovascular exercise daily)
• Eating a Healthy diet of vegetables, fruit and lean protein
• Maintain normal blood pressure
• Regulate Lipid levels and any cholesterol issues
• Manage stress
• Get regular physicals and check-ups
• Know the warning indicators
• Don't delay, if you or someone you know has stroke symptoms—CALL 911
The relaxing environment of Ave Maria in Naples is a tight-knit community with lots of caring individuals. Have you recently discovered that your neighborhood might be adding stress to your once peaceful lifestyle? The hustle and bustle of too many demands, traffic, and over-crowded recreational areas can leave us frustrated and even depressed.
If you're longing for something new—a place to really feel at home, Ave Maria, FL might just be the answer you've been looking for. Ave Maria has been named Collier County's community of the year for the fourth consecutive year. What makes it so unique? The details!
Ave Maria is a 5,000-acre master-planned community in Southwest Florida, just east of Naples. The developer, Barron Collier Companies, envisioned a town for all ages, from growing families to retired seniors, with the idea of a better quality of life for everyone. Wide open spaces, natural beauty, outdoor recreation, community clubs and social activities are all part of the lifestyle that residents enjoy. Only the very top builders are invited to become residential builders in Ave Maria.
Town amenities include over 100 miles of walking trails, an onsite waterpark, golf course and club, tennis, bocce and pickleball, a Town Center with exclusive shopping and dining, a Publix grocery market, private schools, a University, resort pools, fitness center and sports fields, a dog park and playgrounds. With move-in ready homes, models with over 40-floor plans to choose from and prices ranging from the $100s to over $500s, its clear why people are interested in building a new life in Ave Maria.
A great way to experience Ave Maria and its natural beauty is on a 90-minute Orange Jeep Tour safari. These narrated tours cover private land held by the Collier family for over 100 years. Spot alligators, turkey, deer, birds and more wildlife while learning the history and folklore of Southwest Florida.
Reservations required at 239-434-5337. Visit Ave Maria's website to learn more about this growing master-planned community and how you too could enjoy living here.
www.avemaria.com