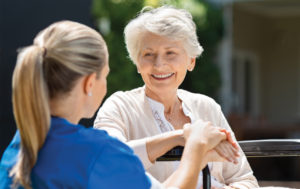 Aging can be challenging not only relating to our health but also our ability to perform daily tasks and to live the life we deserve. When we're younger, we often take for granted the ability to easily button a shirt without arthritic fingers or the capacity to walk safely from the bathroom to the living room without tripping over an area rug and getting hurt.
As these daily tasks become increasingly more difficult, many seniors find themselves wondering if a home health service is right for them, and what they actually do to help. With so many different companies in the home health arena, it's important to differentiate services and provision of care.
Companion Care provides services help with daily tasks, like cooking, washing laundry, and vacuuming the floor. For some seniors, that kind of help is all they need.
But for seniors with more complex needs, there's another option: skilled home health care.
What does "skilled" home health mean?
Skilled home health services are provided by medical professionals, including home health aides, nurses or therapists, and are based on an order from a physician. These services could include a therapy, such as physical, speech or occupational. It could include medication management, meaning a nurse can help to make sure you are taking the right prescription, at the right time, with the right food or other medications.
An expert team of interdisciplinary professionals encompass the skilled home health model. Regular visits to monitor patients' medical conditions and treatments benefit recipients of care. For example, individuals with COPD often have incidents of fluid build-up, which can make it difficult for them to breathe, and often feel the need to call 911. With skilled home health, the team of nurses can prevent readmissions to the hospital by several means. The medical team can prescribe medications to block fluid build-up, have a daily vital reading monitored by a home health program, and have specialists help with understanding nutrition, and how to keep calm and learn to breathe more functionally through the episodes.
Skilled nursing services at home means you can stay where you are most comfortable.
AARP reports that 89% of the aging population of patients want to remain in their home. It's important for individuals to maintain their independence even though they may require some form of temporary assistance. That's where Home Health Care medical professionals can help patients and their loved ones feel secure knowing that they're medical needs are being met in the comfort of their own home.
In Pasco County, Gulfside Home Health is now offering skilled nursing services, and more.
Skilled home health services from Gulfside Home Health is aimed at helping those in need of skilled nursing services, as well as those needing rehab to recover from a surgery, injury or illness, all in the comfort of home. This can include physical therapy following a knee or hip replacement, speech therapy following a stroke, or occupational therapy to help with arthritis.
For the patient, receiving skilled therapies at home means you can get back to the things you love doing faster and learn new ways to keep your independence. For the caregiver, it means getting the help you need and finding solutions that fit both of your lifestyles.
Gulfside Home Health Services
• Skilled nursing services
• Physical Therapy
• Occupational Therapy
• Speech Therapy
• Home rehabilitation services
• Nursing assessment at each home visit to monitor and manage progress
If you believe you could benefit from Gulfside Home Health's services, talk to your primary care physician about a referral for evaluation. For more information about Gulfside Home Health's services, or if you have any questions, please call 813-501-8244 or email info@gulfside.org.