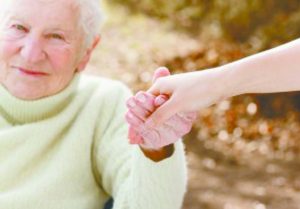 Whether you've suffered one yourself or know someone who has, falls are among one of the most serious health concerns for older patients. It is a scary 4 letter word that we all want to avoid.   Approx. 30-40% of community dwelling adults over the age of 65 fall each year.  Starting out in this New Year we want you to make a resolution – NO FALLING.
Common Causes of Falls:
• Accident/environment causes
• Gait and balance disorders/weakness
• Dizziness and vertigo
• Confusion
• Postural hypotension (drop in blood pressure when changing positions)
• Visual disorder
• Syncope
Things YOU can do to prevent falls:
• Wear stable shoes with a good grip
• Regular exercise-stay active to maintain strength, endurance and balance.
• Medication modifications from your doctor
• Remove throw rugs in your home
• Remove clutter in your home and walk carefully through potential hazards
• Use a nighlight in the bedroom or bathroom
• Do no use towel bars, sink edges etc. for support because they could come away from the wall.
• Use an Assistive Device if balance is off.
• Immediately wipe spills off the floor and use a rubber backed bathmat to preven the bathroom floor from getting wet.
• Know your limitations, if there is a task you cannot easily complete, do not risk falling by doing it.
Quick falls SELF Assessment:
-Take this quick test to see if you are considered low, medium or high risk for falls.
Answer the following questions YES or NO
1. Have you had a fall in the last 12 months? YES/NO
2. Are you on four or more medications a day? YES/NO
3. Do you have Parkinson 's disease or have you had a stroke? YES/NO
4. Do you feel unsteady or have problems with balance? YES/NO
• Can you walk while talking? Do you sway while standing? Can you balance on one foot? YES/NO
5. Do you struggle to get up from a chair?  YES/NO
RESULTS:
You are LOW risk if you answer NO to all
questions, MEDIUM risk if you answer YES to 2 questions and HIGH risk if you answer yes to 3 or more questions.
American Institute of Balance Self Quiz
Have you ever felt?
1. A feeling of motion, spinning, or falling when moving your head quickly or chaning position, e.g getting out of bed? YES/NO
2. Uncomfortably getting around in the darkness?  YES/NO
3. Walking down grocery store aisles or through  the mall upsetting?  YES/NO
4. Your feet just wont go where you want them to?  YES/NO
5. A sense of unsteadiness?  A feeling you are not surefooted?  YES/NO
6. A fear of falling or stumbling?  YES/NO
7.    Looking at moving objects such as escalators or looking out the side weindow of the car makes you queasy?  YES/NO
8. Difficultyies keeping your balance as you walk on different surfaces, e.g tile to carpet?  YES/NO
9. A feeling you are drifting or begin pulled to one side when walking?  YES/NO
10. No one really understanding how frustrating this is?  YES/NO
*If you answered YES to one or more of these questions a vestibular equilibrium evaluation should be considered.
-Reference: www.dizzy.com
Physical and Occupational therapists are specially trained to address balance deficits and patients that are at risk for falls.  If you have a history of falls or scored as a risk on either balance assessment you may benefit from PT or OT interventions to help to decrease your fall risk and improve your safety and quality of life.
We here at Life Care of Ocala are here to improve the health of the community for which we serve.  As part of this vision, we provide a team of highly skilled Physical, Occupational and Speech Therapists and the latest in cutting edge rehabilitation technology such as the AlterG anti-gravity treadmill and the Biodex balance system to help you regain your independence and facilitate you reaching your personalized goals.  Please call our outpatient rehabilitation department at (352) 873-7570 if you have any questions or think we can help you maintain your functional independence.
Medicare, Worker's Comp and Most Insurances Accepted.
352.873.7570 | 2800 SW 41st St. | Ocala, FL 34474 | www.LifeCareCenterOfOcala.com
Reference: Test from www.NHS.uk
…………………………………………………………………………………………………
References:
"Fall Prevention for Older Adults".  The American Occupational Therapy Association, Inc.  TIPS for living life to its fullest.
"Falls in older people: epidemiology, risk factors, and strategies for prevention."  Age of Aging. 2006; 35-S21L ii37-ii41.
"Prevention of Falls in Older Patients". Shobha S. RAO, MD.,.  American Family Physician 2005; Volume 72, Number 1.