for  Improved Early Detection of Colon Cancer
Gastro-Colon Clinic is one of the first in the nation to use EndoChoice's Fuse™ endoscope system to reduce the 'miss rate' of lesions during colonoscopy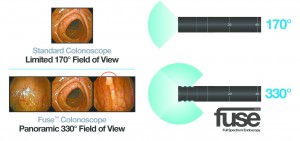 Although colonoscopy exams prevent many colon cancer deaths1 and are the gold standard, for detecting colorectal cancers,2 the procedure is not completely effective in preventing cancer cases.3 For this reason, Gastro-Colon Clinic has invested in an innovative technology that significantly improves the accuracy of colonoscopy exams and can greatly reduce the number of potentially pre-cancerous lesions missed by standard, forward-viewing endoscopes.
The FuseTM endoscope system from EndoChoice®, Inc. uses three small cameras at the tip of a flexible GI endoscope. "Unlike standard, forward-viewing endoscopes that use a single camera, the Fuse system lets doctors see nearly twice as much surface area," said Dr. Kesari.
"The Fuse endoscope is all about seeing more of the GI tract. It projects the expanded view on three screens to give physicians
previously unseen views, such as behind colonic folds and difficult anatomy. We are pleased to offer this important new technology to
our community."
The Fuse system recently received FDA 510(k) clearance for marketing in the U.S. "As an early adopter of the innovative Fuse system, Gastro-Colon Clinic is at the forefront of U.S. healthcare providers offering the best technology and procedures for detecting colorectal cancers," said Dr. Kesari. "Our team is proud to be using the new system in our ongoing effort to reduce cancer and provide the highest quality care to our patients."
In a multi-center trial conducted in the U.S., Europe and Israel, researchers performed a series of colonoscopies comparing standard, forward-viewing endoscopes and the new
Fuse system.
The endoscope used in the first examination was selected randomly. After the first inspection, each patient immediately underwent a second colonoscopy performed by the same doctor, but with the competing endoscope. The 185 patient trial showed standard, forward-viewing endoscopes missed 41% of potentially pre-cancerous lesions, or adenomas, while the Fuse system missed just 7%.  Additionally, Fuse found 69% more adenomas when compared to standard, forward-viewing endoscopes. The results of this clinical study were presented at a major medical society meeting earlier this year and recently published in The Lancet Oncology.
"Standard, forward-viewing endoscopes provide up to 170 degrees of forward vision. The advantage of Fuse is that it allows endoscopists to examine twice the anatomy with a wide 330 degree view. This is especially advantageous because adenomas can be missed in difficult to find areas of the anatomy," said Dr. Kesari. "The findings are compelling and support the data from previous studies showing the limitations of standard, forward-viewing endoscopes. EndoChoice's innovative Fuse technology dramatically improves the effectiveness of this life-saving procedure. And improving the effectiveness of every procedure we perform here at Gastro-Colon Clinic is what we're all about."
Patient scheduling with the new Fuse system is now underway at Gastro-Colon Clinic.  More than 15 million colonoscopies are performed across the United States each year and most insurance companies cover the costs for those patients over age 50.
Gastro-Colon Clinic
Dr. Anand Kesari
7535 SW 62nd Court,
Ocala, Fl. 34476
1400 US 441 N. Bldg. 930,
The Villages, Fl. 32159
1389 S. US 301,
Sumterville, Fl. 33585
7578 SE Maricamp Rd. #102,
Ocala (Shores), Fl. 34472
10435 SE 170th Pl.,
Summerfield, Fl. 34491
(352) 237-1253
www.gastro-colon.com
1 Zauber AG, Winawer SJ, Waye JD, et al. Colonoscopic Polypectomy and Long-Term Prevention of Colorectal-Cancer Deaths.  N Engl J Med 2012; 366:687-696
2 Rockey DC, Paulson E, Niedzwiecki D, et al. Analysis of air contrast barium enema, computed tomographic colonography, and colonoscopy: prospective comparison. Lancet. Jan 22-28 2005;365(9456):305-311
3 Brenner H, Chang-Claude J, Seiler CM, Sturmer T, Hoffmeister M. Potential for colorectal cancer prevention of sigmoidoscopy versus colonoscopy: population-based case control study. Cancer Epidemiol Biomarkers Prev. Mar 2007;16(3):494-499.