By Dawn Trigg
Broker Associate, REALTOR®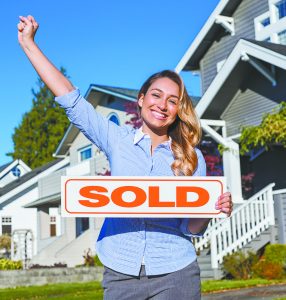 Selling your home is an exciting endeavor and an important milestone in your life—not to mention potentially lucrative! However, it can also be stressful and nerve-wracking. Worrying over the sale of your home is natural and expected, but it doesn't have to get out of control. Here are some quick, easy ways you can maintain optimum mental health while dealing with negotiations, inspections, and appraisals.
1: Meditation
The practice of meditation can seem mystifying and arcane, but it's actually deceptively simple—and its cognitive benefits have been well known for centuries. All you need is a quiet space and a few minutes to yourself. Sit with your legs crossed, and focus on your breathing. Breathe into your diaphragm through your nose slowly and evenly for five to ten minutes to clear your mind, reduce feelings of anxiety, and get back at it refreshed.
2: Gentle Exercise and Cardio
Get rid of that excess nervous energy by engaging in some gentle, low-impact exercise. Even light exercise releases endorphins that make your brain happy and helps your body better adapt to stress. Exercising in a natural setting is even better, since outdoor vistas tend to create a meditative state of mind called involuntary attention in which our minds can wander but our senses are engaged in the present moment. When you're stressed, try some light yoga or go for a walk at your favorite spot.
3: Visualization
A similar practice to meditation, visualization is known to elicit relaxation response in the body and mind. It's also very simple: make yourself comfortable in a quiet place, then imagine yourself relaxing in a peaceful scene of your choice. You can also focus on positive, goal-focused imagery like selling your home, or picturing yourself in your dream home.
4: Potassium Consumption
Stressing out with no time to take a meditation or yoga break? Grab a banana. Bananas (as well as sweet potatoes, yogurt, and winter squash) are rich in potassium, a nutrient that helps your body regulate blood pressure and recover more quickly from stress. Incorporate potassium-containing foods in your meals throughout the selling process to help your body and mind cope.
Selling your home should be an exciting, happy time for you and your family. Keep your selling stress low by hiring a Showcase team member to make sure you get exactly what you want from the sale of your home. Let us deal with the hard stuff so you don't have to!
free home evaluation
Inventory is low, and buyers are combing Marion County for homes. Take advantage of the seller's market and get a head-start in the selling process with a free home evaluation! Contact me at (352) 895-8557 to learn more about how your home will perform in today's market.