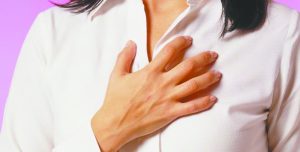 Chest pain can happen to anyone and is fairly common. Differentiating between various types of chest pain can still be Most heart attacks start slowly, with mild discomfort or pain however, other heart attacks are rapid and intense. Is it a heart attack? Indigestion? Or something different altogether? Dr. Vallabhan, recently shared some lifesaving tips:
Be Aware of Your Symptoms
Certain lifestyle habits, hereditary traits, and risk factors increase the likelihood of heart attacks. Smoking, obesity, diet, stress, high blood pressure and cholesterol are risk factors that are controllable. Some risk factors are not such as age and genetics. Being aware of common symptoms and knowing when to seek help are of the most important ways to control the damage and minimize the complications of heart disease.
Don't wait
Early in the onset of discomfort. Dr. Vallabhan explained that heart attacks typically feel like heavy chest pressure, as if someone were sitting on your chest, and are often accompanied by sweats, nausea, and tingling in the arms, and jaw. However, not everyone experiences the same symptoms. Unusual symptoms are particularly common in women.
Symptoms can vary in intensity.  For some the symptoms are mild, while for others the pain is more severe.
Prevention is the best form of medicine and that applies to chest pain and heart disease as well. Maintain a healthy, nutritious diet focused on vegetables and lean sources of protein. Do not smoke. Treat and monitor your high blood pressure if you have been diagnosed with that condition. Be aware of your family history and exercise regularly.
Dr. Vallabhan also noted that chest pain doesn't always signify a heart attack. There are many different causes, including complications in the lungs, GI tract and blood vessels. Dr. Vallabhan helps provide clarity, regarding concerning and confusing symptoms. If you are unsure whether your symptoms need to be formally evaluated, simply visit Dr. Vallabhan today.
Dr. Vallabhan
352-750-2040
Rolling Oaks Professional Park
929 N. US Highway 441, Suite 201
Lady Lake, FL 32159
It's your heart.
It should be
personal.
And that's how I treat it.
When you come to see me… that's exactly who you will see. I will know your name, how many children you have, what foods you love to eat and how much sleep you get each night. I will take your health personally. That is why I am the only doctor you will see when you come to my office. I will take time with you and get to know you personally. No patient of mine will ever have to see an associate or undergo needless testing. I will know which tests are needed and which aren't. I will watch over you and treat you as I want to be treated when, one day, I am the patient and not the doctor. And that is my promise to you.