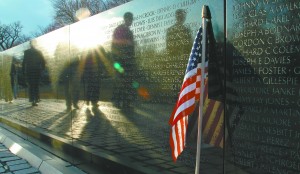 InterCommunity Cancer Center is excited and honored to announce that it is participating as an oncology provider for the national Veterans Choice Program (VCP). InterCommunity Cancer Center is part of Vantage Oncology, LLC, a leading national provider of radiation oncology services and integrated cancer care, which operates more than 50 treatment facilities in 14 states. The center is currently accepting radiation oncology patients through the program.
The Veterans Access, Choice, Accountability Act (VACAA) of 2014 is a law that expands the number of options Veterans have for receiving and ensuring they have timely access to high-quality care. The VCP provides primary care, inpatient and outpatient specialty care, and mental health care for eligible Veterans when the local Veterans Administration Medical Center (VAMC) cannot provide the services due the lack of available specialists, long wait times (30 days or more) and extraordinary distance (40 miles or more) from the Veteran's home.
A veteran's out-of-pocket expense will be the same as if they received treatment at their local VA facility.
"It is privilege for us to participate in the VCP as a national oncology service provider for our nation's heroes. Our mission is provide veterans timely and convenient access to advanced, lifesaving cancer care at our specialized facilities so that they are afforded the best opportunity to beat their disease," said Herman Flink, M.D., radiation oncologist at InterCommunity Cancer Center and Institute.
Beginning in November 2014, a new VA Choice Program card was sent to eligible veterans enrolled in VA health care and who seek non-VA health care. Eligible Veterans are required to contact Health Net Federal Services, LLC (Health Net) or TriWest Healthcare Alliance to obtain authorization for all medical care under the VCP. The VCP allows a Veteran to choose a non-network provider when one is not available, or has a preference for another provider. Once the Veteran contacts a Vantage Oncology treatment facility, he or she will be provided information about the physician and facility so that it can be submitted for approval.
For more information about Vantage Oncology and its centers' participation in the Veterans Choice Program, please call 352.674.6300 or visit us at www.vantageoncology.com/veterans.
THE EXPERIENCE OF
INTERCOMMUNITY CANCER CENTERS
ICCC has 25 years of cancer-fighting experience having treated over 10,000 patients. They are dedicated to empowering patients to have the confidence they need to change their lives. Radiation Oncologists Drs. Hal Jacobson, Herman Flink, and Jeffrey Kanski bring exceptional expertise in treating breast, lung, prostate, gynecologic, skin and other cancers.
As part of a larger, nation-wide oncology group of physicians and specialists under Vantage Oncology, the oncologists at ICCC have access to aggregated clinical information and best practices from the treatment of more than 1,000 patients per day, enabling them to develop highly-effective and peer-collaborated treatments. This gives many of the centers that work with Vantage, including ICCC, the ability to offer university-quality treatment services in smaller and more rural areas. It gives local communities exceptional services closer to home and in a non-hospital setting. To learn more, please visit www.ICCCVantage.com.
ABOUT VANTAGE ONCOLOGY
Vantage Oncology offers a complete development, implementation and management solution for radiation oncology practices. It provides ownership opportunities that empower physicians to maintain control of their practice while leveraging the strength of the company's network and clinical resources. A multi-disciplinary team is committed to continuously raising the standards of cancer care. Vantage provides patients and their families with ultimate peace of mind through its commitment to clinical excellence and superior outcomes. For more information, please visit
www.VantageOncology.com
.
Vantage Oncology
352-674-6300
www.ICCCVantage.com
Hal Jacobson, MD
Herman Flink, MD
Jeffrey Kanski, MD
Maureen Holasek, MD