By Thomas L. Johnson II, MD –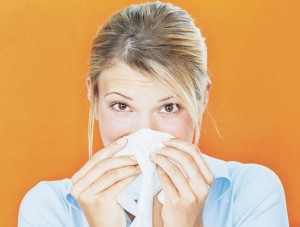 Runny, stuffy nose and sneezing are common symptoms. Sometimes it is difficult to tell if these symptoms are from allergies, possibly from an infection or neither. With up to 30% of adults and 40% of children having allergies, there is a good chance that these symptoms may be caused from an allergic trigger. Common allergic triggers include pets, pollens (grass, tree, weed), dust mites, molds, cockroaches and mice.
Timing and Duration Determine Cause
The timing and the duration of symptoms help in determining whether the symptoms are caused by allergens. For pollen allergy, there generally is a noticeable increase in symptoms coexistent with the rise in seasonal pollination. Trees typically pollinate in the spring, grasses in the summer and weeds/molds in the fall. These seasons are extended with our climate in Florida. Many individuals will be allergic to multiple pollens and ultimately have symptoms throughout many months of the year. Most of the indoor allergens induce symptoms all year (except for sporadic exposure to pets in those who are allergic). Infectious symptoms typically last for 7-10 days. Common non-allergic/non-infectious triggers that cause runny, stuffy nose and sneezing include perfumes, cleaning supplies, and cigarette smoke. Rather than triggering symptoms through an allergy pathway, these products can irritate the nerves, vessels and glands in our nose creating the same symptoms.
Allergy Testing
Allergy testing is the best way to determine if individuals have allergic triggers. Testing is performed either by skin testing or through a blood test. Skin testing involves gently scratching the skin surface with multiple liquid allergen extracts. The blood test version involves having blood taken from a vein, sending the blood to a lab where a machine determines a numerical value for each allergen tested. The results of the blood test are sometimes difficult to interpret (especially when testing for foods). Skin testing is still the "gold standard" for allergy testing. Skin testing is more accurate, faster, and less expensive than a blood test. For about the same cost of the blood allergy test, an individual can undergo an evaluation, have skin testing and receive treatment from an allergy specialist. Testing is covered by most insurance plans with or without a referral. Testing can also be performed at any age.
Correct Diagnosis is Key
It is important to have testing performed so that the correct diagnosis can be made rather than trying multiple medications and wasting valuable time and money on products that do not provide relief. Once specific triggers have been identified, avoidance recommendations can be provided and appropriate treatment options can be initiated.
Experts in Allergy Care
To learn more or to schedule an allergy test, contact Allergy & Asthma Care of Florida at 352-622-1126, or visit us online at www.aacfinc.com.
Thomas L. Johnson II, MD
Dr. Johnson is the newest member of our team. He received his Doctorate of Medicine from the University of Kentucky in Lexington in 2000. He performed his residency in Pediatrics at the Wright State University Integrated Pediatric Residency Program in Dayton, Ohio from 2000-2003 and then served as Pediatric Chief Resident at Wright-Patterson Medical Center from 2003-2004. He completed his fellowship in Allergy & Immunology at Wilford Hall Medical Center in San Antonio, Texas in 2006. Dr. Johnson served as an Officer in the United States Air Force from 2000-2009. He is Board Certified in Pediatrics as well as Allergy and Immunology.